News and Information
---
Violence mars Iraq Shia festival
February 19, 2005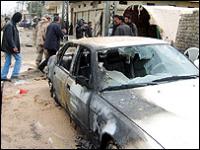 Haj Ibrahim al-Falahi stands next to the tent out up for his wife's funeral, which was the target of a suicide bomb attack in western Baghdad, 19 February 2005,
A suicide bomber struck outside a funeral tent in western Baghdad
Suicide bombers have killed more than 30 people in Iraq as Shia Muslims marked Ashura, their holiest day.

Religious processions, mosques and funerals were struck, in a second day of attacks targeting Ashura.

In the deadliest incident, at least 17 people were killed when a suicide bomber walked onto a bus in a northern district of Baghdad, police said.

But major security in Karbala seemed to have prevented attacks, as thousands of Shias converged on the holy city.

Security was tightened this year after more than 180 people were killed in bombs in Baghdad and Karbala during last year's festival.


SHIA FESTIVAL: ASHURA
Annual Shia festival commemorating martyrdom of Imam Hussein
Hussein, grandson of Prophet Muhammad, killed at Karbala by army of Caliph Yazid in 680
Faithful strike themselves with chains and swords to atone for Hussein martyrdom
The murder 19 years earlier of Ali, Hussein's father, gave rise to the central schism in Islam between Sunni and Shia

In pictures: Ashura festival
What is Ashura?

Checkpoints were set up around Karbala, where the main commemorations took place, and cars were banned from a wide area.

The BBC's Jon Leyne, in Baghdad, says this year's festival was considered a likely target for Sunni insurgents, especially after the Shia victory in last month's election.

The intention of the latest attacks was clearly to inflame divisions between the two communities, he says.

At least four suicide bombers struck in Baghdad on Saturday.

Following the bus bomb that killed 17 in the northern district of Kadhimiya, another man blew himself up in the same area after an exchange of fire with security forces.

One US soldier was killed in the second incident.

A third suicide bomber later killed two Iraqi guardsmen. A fourth killed at least three people at a Sunni funeral in the west of the capital.

In yet another incident in Baghdad, four pilgrims died in an attack near a Shia shrine. There were conflicting reports about whether it was a mortar attack or suicide bombing.

In violence elsewhere, at least four Iraqis were killed in suicide bombs at army checkpoints in the towns of Latifiya and Baquba.

On Friday, at least 30 people were killed in suicide bombs and attacks against mainly Shia targets around Baghdad.

Islamic split

Thousands of Shias marched in Karbala and Baghdad on Saturday, carrying green Islamic posters of Hussein, the martyred grandson of the prophet Muhammad.

An Iraqi Shia walks alone outside Imam Mussa al-Kazem in central Baghdad after he flagellated himself to mark Ashura
Shia faithful strike themselves with chains and swords to atone
Ashura marks the death 1,300 years ago of the Prophet Muhammad's grandson, which widened the split between Sunni and Shia Islam.

Some Shias flail themselves with chains and cut their heads with swords to emulate the suffering of Hussein, who died in battle at Karbala in the 7th Century.

Iraq's national security adviser Mouwaffaq al-Rubaie accused militant leader Abu Musab al-Zarqawi and former Baath Party members of trying to provoke a sectarian civil war.

"It's a paradoxical idea when they claim that they are fighting the infidels and at the same time, they kill Muslims during Friday prayers," he told the Associated Press news agency.
Source: www.bbc.com
http://news.bbc.co.uk/2/hi/middle_east/4279139.stm
Support Caprivi Freedom
Fill out the form below to become a member of this site and receive our regular newsletter.