News and Information
---
Russia backs Iran in nuclear row
February 18, 2005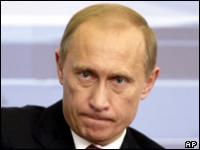 Engineers at the facility being built in Bushehr
The Bushehr reactor is being built with Russian assistance
Russian President Vladimir Putin says recent moves by Iran have convinced him it is not trying to build nuclear arms.

He said Moscow would continue working with Tehran in all fields, including nuclear power, adding that he had accepted an invitation to Iran.

His comments came at a meeting in Moscow with chief Iranian nuclear negotiator Hassan Rowhani.

Moscow is helping Iran build a nuclear reactor - a project which has been heavily criticised by the US.

The Americans accuse Iran of seeking nuclear weapons.

Iran denies this, saying its nuclear development programme is purely for peaceful, energy-generating purposes.


Russian President Vladimir Putin
Iran's latest actions convince us that Iran does not intend to produce nuclear weapons
Vladimir Putin
Russian president

Under an agreement announced on Thursday and due to be signed this month, Moscow will supply Tehran with the nuclear fuel it needs.

The spent fuel will be returned to Russia. This was the last issue delaying the start of operations at the Russian-built reactor at Bushehr, in southern Iran.

The US believes that the Bushehr reactor - when completed - could enable the Iranians to extract weapons grade plutonium.

The BBC's Steve Rosenberg in Moscow says Russia has close ties with Iran, dating back to Soviet times, and it is determined to continue co-operation despite US opposition.

Suspension

After his talks with President Putin on Friday, Mr Rowhani said Russia's role may prove "rather useful" in moving ahead discussions on Iran's nuclear programme with Germany, Britain and France.

The three have offered to replace a heavy-water nuclear reactor - which can be used to make weapons-grade nuclear material - with a light-water reactor.

Low grades of uranium are used for nuclear reactor fuel, but higher grades can be used in atomic bombs.

Tehran suspended uranium enrichment temporarily in November, as part of the dialogue process.
Source: www.bbc.com
http://news.bbc.co.uk/2/hi/europe/4276829.stm
Support Caprivi Freedom
Fill out the form below to become a member of this site and receive our regular newsletter.