News and Information
---
Thatcher quizzed about coup plot
February 18, 2005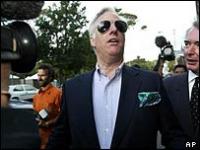 Sir Mark Thatcher
Sir Mark is co-operating with authorities in South Africa
Sir Mark Thatcher has appeared in court in South Africa to answer questions over his role in an alleged coup plot in Equatorial Guinea in West Africa.

The son of the UK's ex-Prime Minister Margaret Thatcher has admitted breaking South African anti-mercenary laws by agreeing to finance a helicopter.

However, he said he had not known it was to be used in the alleged plot.

He was given a suspended jail term and fined after agreeing a plea bargain to help investigators last month.

As part of the deal, he agreed to answer 43 questions submitted by Equatorial Guinea, which believes there was significant British involvement in the attempted coup.

Funding

Thatcher looked very nervous as he took the witness stand, says the BBC's Barnaby Phillips in Cape Town.

He denied any knowledge of a coup plot, but he did say he knew many of the people allegedly involved, including the alleged leader, Simon Mann.


It is a mystery to me why I should give evidence in a trial that ended four months ago
Sir Mark Thatcher

He also said that in early 2004 he transferred $275,000 (£145,000) to a company that was subsequently linked to the plot - but he said he was told at the time this was to help fund a civilian helicopter.

Speaking to reporters outside the court after his appearance, he said again that he had no direct knowledge of the plot attempt.

"It is a mystery to me why I should give evidence in a trial that ended four months ago," he said.

"However, I'm very happy to have had the opportunity to do so, and to do so under oath, because as you have observed from my answers to the questions, it is patently clear that I had nothing to do with financing any coup in Equatorial Guinea," he added.

Our correspondent says Thatcher looked relieved after his day in court, brushing aside a question about whether he was planning to relocate to Switzerland.

Mercenary activities

In his plea bargain statement, Thatcher, 51, said he came to realise the helicopter was to be used for mercenary activities before the deal was finalised.

The businessman said he had believed that it was to be used as an air ambulance.

His lawyers say that his plea bargain protects him from the threat of extradition to Equatorial Guinea.

Last year, former SAS officer Mann was found guilty of illegally buying weapons in Zimbabwe, which were allegedly intended for use in the coup plot.

A further 14 men were found guilty in Equatorial Guinea of being involved in the alleged plot to overthrow President Teodoro Obiang Nguema Mbasogo, who has ruled the country for the past 25 years.
Source: www.bbc.com
http://news.bbc.co.uk/2/hi/africa/4275785.stm
Support Caprivi Freedom
Fill out the form below to become a member of this site and receive our regular newsletter.