News and Information
---
Pop star Jackson leaves hospital
February 17, 2005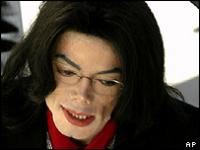 Michael Jackson
Michael Jackson was admitted to hospital on Tuesday
Pop star Michael Jackson has been released from hospital following treatment for flu-like symptoms.

His admission to a Santa Maria hospital on Tuesday led to a week-long postponement of his trial on charges of child abuse, which he has denied.

"He's still not feeling well, but he's going to continue his recovery at home," said the singer's spokeswoman, Raymone Bain.

Jury selection was under way when Mr Jackson was taken ill on Tuesday.

The judge and potential jurors were already in the courtroom when it was announced that Mr Jackson had been diverted to hospital on his way to court.

On Wednesday, doctors declared he was "in good spirits" but continued to need care for "persistent viral symptoms".

Shortly after, his spokeswoman said doctors had said he was strong enough to go home to his Neverland ranch to recover.

Out of sight

During his stay in hospital, Mr Jackson was seen waving to a gathering of fans from a window at the Marian Medical Center in Santa Maria.

Michael Jackson
Mr Jackson was seen waving a teddy from a window

But Mr Jackson managed to leave the hospital out of sight of the waiting media.

Meanwhile, Mr Jackson's legal team are braced for another documentary about the singer's life from reporter Martin Bashir.

Mr Bashir previously trailed Mr Jackson for the controversial documentary Living With Michael Jackson.

The new two-hour show on ABC on Friday is expected to air new interviews and allegations about Mr Jackson's private life.

Jury selection is now expected to resume on 22 February, with the trial expected to last up to six months.

This was the second time the trial has had to be postponed.

The judge delayed proceedings during its first week following a family bereavement of lead defence lawyer Thomas Mesereau.

Mr Jackson has denied 10 counts of abusing a 13-year-old boy at his Neverland home.

If convicted, he could face a maximum sentence of 21 years in prison.
Source: www.bbc.com
http://news.bbc.co.uk/2/hi/entertainment/4272781.stm
Support Caprivi Freedom
Fill out the form below to become a member of this site and receive our regular newsletter.