News and Information
---
Nigeria holds firm on Togo 'coup'
February 17, 2005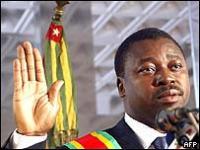 Faure Gnassingbe at his inauguration
Has Faure Gnassingbe decided to step down?
Nigerian President Olusegun Obasanjo has again called for elections in Togo, after meeting its new head of state.

The Togolese delegation explained to him that Faure Gnassingbe had been installed as president following his father's death to prevent anarchy.

But Mr Obasanjo repeated a warning by West African leaders to impose sanctions unless Togo complied with their demands, his spokeswoman said.

It was Mr Faure's first visit outside Togo since his appointment last week.

Test for democracy

It is likely the trip was motivated by a desire to appease President Obasanjo, who chairs the African Union (AU) and is hugely influential within West Africa, the BBC's Anna Borzello in Lagos says.

African leaders have been highly critical of recent events in Togo, which they describe as a coup.

Togolese soldiers
Togo's army remains loyal to Eyadema - and his son

The constitution was changed after the death of President Gnassingbe Eyadema to allow his son to serve out his father's term of office, which ran until 2008.

An ultimatum by Ecowas - the 15-member Economic Community of West African States - threatening Togo with sanctions unless it returned to constitutional order, expired on Tuesday.

"President Obasanjo, while expressing an understanding of their situation, left them in no doubt as to the position of Ecowas and the African Union on the unconstitutional takeover of power," Remi Oyo, Mr Obasanjo's spokeswoman, said after the three-hour meeting.

"He advised them very strongly to retrace their steps to the position of the constitution, and following the position of the constitution, to hold free, fair and transparent elections."

It was widely expected after a visit to Lome on Tuesday by West African envoys that Mr Faure would respond to the ultimatum and announce fresh elections.

But Mr Faure's anticipated address to the nation did not take place on Wednesday night.

Analysts say Togo's succession is proving a real test for African leaders, and in particular for the AU, in proving to the West it can safeguard good governance and democracy on the continent.

Apology

Before the talks, Mr Obasanjo said it was going to be "a family meeting".

"In a situation where the family meets to put its heads together and do what is right, how it is right and when it is right," he told reporters.

Our correspondent says these are some of the most conciliatory remarks the Nigerian president has made on Togo since the crisis began 11 days ago.

Earlier, Nigeria said it had received an apology from Togo over the treatment of a group of Nigerian officials whose aircraft was prevented from landing in the Togolese capital last week.

Meanwhile, a crackdown on private media continued on Tuesday with the closure of one television and three radio stations for "financial reasons", AFP reports, bringing to eight the number of stations shut down in the past 10 days.

The new leader has already promised "free and fair" elections soon - but correspondents say he may be referring to parliamentary polls due this year, rather than a presidential ballot.
Source: www.bbc.com
http://news.bbc.co.uk/2/hi/africa/4267395.stm
Support Caprivi Freedom
Fill out the form below to become a member of this site and receive our regular newsletter.