News and Information
---
Shia majority for Iraq parliament
February 17, 2005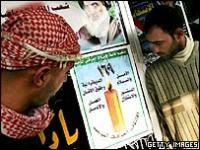 Iraqi men look at poster of poll-winners, the United Iraqi Alliance
The Shia-dominated United Iraqi Alliance won almost half the vote
The Shia United Iraqi Alliance party has won a majority of seats in Iraq's new transitional parliament.

The party, which won the 30 January election with 48% of the vote, was allocated 140 seats.

The Kurdish parties, which came second in the poll, have 75 seats and interim PM Iyad Allawi's party gets 40 seats.

The new 275-seat National Assembly will now have to choose a president and two vice-presidents, who will then decide on a prime minister and cabinet.

'Extremely successful'

Chief UN election adviser, Carlos Valenzuela, congratulated those involved with making the election happen.


OFFICIAL RESULTS
Nearly 8.5 million Iraqis voted, 58% of the registered electorate

"The elections were not perfect, they were never meant to be, but they were extremely successful," he said.

Iraq's electoral commission announced the results of the election on 13 February.

It has spent the last few days considering complaints arising from the elections.

Election commission spokesman Farid Ayar told al-Arabiya television that 47 complaints had been filed and most were resolved.

As dozens of parties failed to win enough votes to gain parliamentary seats, those who were elected to parliament gained a larger proportion of seats than their vote suggested.

Coalition deal

The United Iraqi Alliance will have to form coalitions with other parties to govern, as a two-thirds majority of delegates is needed to pass legislation in the new parliament.

This will mean weeks, perhaps months, of negotiations before a new Iraqi government is confirmed in office, says the BBC's Jon Leyne in Baghdad.

MPs' first job will be to appoint a presidential council, made up of a president and two vice-presidents.

They will in turn appoint a prime minister - the most important position in the new government - and a cabinet.

Members of the alliance party - which is made up of a coalition of Shia parties - have been meeting this week to discuss their candidate for prime minister.

The current interim Vice-President, Ibrahim Jaafari, is seen as a favourite although he is being challenged by Ahmed Chalabi, who once had close ties with the Pentagon but has since lost US support.

Mr Jaafari told reporters talks on the issue would continue for "a couple more days".
Source: www.bbc.com
http://news.bbc.co.uk/2/hi/middle_east/4273931.stm
Support Caprivi Freedom
Fill out the form below to become a member of this site and receive our regular newsletter.