News and Information
---
Refugees Now Have Access to Employment And Education
February 16, 2005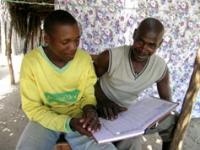 Agencia de Informacao de Mocambique (Maputo)

February 14, 2005
Posted to the web February 14, 2005

Maputo

The Mozambican government started last week issuing identification cards both for asylum seekers and for those already granted refugee status, which will allow the beneficiaries to have access to employment and education, among other benefits, reports Monday's issue of the Maputo daily "Noticias".

The director of the National Institute for Assistance to Refugees (INAR), Rosa Chissique, said that the cards for asylum seekers must be renewed every six months, while the card for confirmed refugees is renewable every two years.
Subscribe to AllAfrica

She added that the process of issuing identity cards is taking place in all countries that signed the United Nations Convention on Refugees, and the aim is to encourage all refugees to register, so that the relevant authorities may create a data base and facilitate assistance.

"What is happening is that these refugees circulate through all the countries in the region and, wherever they go they gain refugee status. Thus, we have a situation where the same people who are registered here are also registered in other countries", she said.

Chissique said that with these documents, refugees will be allowed to seek employment, to go to school, to open bank accounts and to rent accommodation. INAR estimates that there are about 8,500 refugees in the country, 5,000 of whom are in the Marretane Centre, in the northern province of Nampula.

Chissique is aware that this figure is not accurate, since many are still unregistered. Refugees in Mozambique are mostly from the Great Lakes region, including Rwanda, Burundi, and the Democratic Republic of Congo.

Some of the refugees expressed satisfaction with the initiative. One of them, Feliciano Nyaminani, from Rwanda, told reporters "I am happy. I came to Mozambique in 2002, but during all this time I could not work or open a bank account or send money to my country".
Relevant Links
Southern Africa
Human Rights
Labour
Education
Refugees and Displacement
Mozambique

He said that he left his country because of the war. "I had six brothers, who were all killed by the rebels. My wife and my two daughters were kidnapped. I am here, but I hope to return home one day", added Nyaminani, who left Rwanda in 1993, and travelled to Mozambique through Congo and Malawi.

Another refugee, Bwaki Konda, from Congo, who has been registered in Mozambique, with his family, since 2001, said that "this document will help us a lot. Now we can enrol our children in school. We left Congo during the 1990s and previously we were in Tanzania and Malawi".
Source: www.allafrica.com
http://allafrica.com/stories/200502140288.html
Support Caprivi Freedom
Fill out the form below to become a member of this site and receive our regular newsletter.