News and Information
---
'Foreign help' for Hariri inquiry
February 16, 2005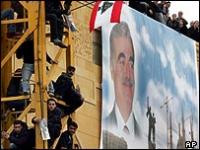 Rafik Hariri funeral
Thousands thronged the streets of Beirut to see Hariri buried
Lebanon is to ask foreign experts to investigate the killing of former Prime Minister Rafik Hariri.

The former leader, credited with reviving Lebanon's economy after 15 years of civil war, died in a huge car bomb attack on Monday.

A previously unknown Islamist militant group has said it was behind the blast, but fingers have also been pointed at Syria, which denies any involvement.

Hariri was buried amid chaotic scenes in Beirut on Wednesday.

Thousands of people converged on the city's Muhammad Amin Mosque for the funeral service and visiting international dignitaries offered their condolences to Hariri's family.

Many mourners accused Syria of having a hand in the killing, calling for it to withdraw the contingent of troops it maintains in Lebanon.

The US ambassador to Damascus has been recalled to Washington for consultations and is expected to remain there for an "indefinite period", according to Secretary of State Condoleezza Rice.

Islamist claim

Facing growing calls for an international inquiry into Mr Hariri's killing, Lebanon said it would allow foreign experts to offer their assistance.

Beirut's military judiciary said Swiss experts on DNA testing and explosives will be brought in to conduct tests on the blast that killed Hariri and 14 others as it destroyed cars and buildings in downtown Beirut.


RAFIK HARIRI
Prime minister 1992-98 and 2000-04
Self-made billionaire
Trained as a teacher, then founded successful construction firm in Saudi Arabia
Born in 1944 to a poor Sunni Muslim family in the southern Lebanese port of Sidon

In pictures: Hariri funeral

Lebanon had earlier said there was no need for an international investigation into the killing - a demand voiced by the French and US governments.

Before travelling to Beirut for Hariri's funeral, US state department official William Burns said international expertise must be brought in to ensure the investigation is "serious and credible" and those responsible are brought to justice.

While an unknown Islamist militant group has claimed it was behind the massive car bomb that ripped through Hariri's motorcade, this has yet to be verified.

Hariri resigned during his second term as prime minister of Lebanon late last year after apparent disagreement with the country's staunchly pro-Syrian President, Emile Lahoud.

A huge security operation was staged for Hariri's funeral, with heavily armed police and troops fanned out along the funeral route.

The BBC's Kim Ghattas in Beirut says Christians, Muslims and Druze alike are grieving for the death of the Sunni Muslim billionaire, who symbolised the revival of Lebanon after years of bloody civil war.
Source: www.bbc.com
http://news.bbc.co.uk/2/hi/middle_east/4271815.stm
Support Caprivi Freedom
Fill out the form below to become a member of this site and receive our regular newsletter.