News and Information
---
Jackson is 'stable' in hospital
February 16, 2005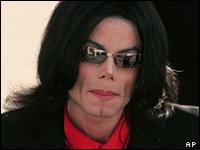 Michael Jackson arrives for court on 14 February 2005
Michael Jackson was on his way to court when he was taken ill
Pop singer Michael Jackson remains in a stable condition in a California hospital where he is being treated for a "severe" case of the flu.

Mr Jackson, 46, fell ill on the way to court in Santa Maria on Tuesday where he was due to attend the jury selection process in his child abuse trial.

Jury selection has now been postponed until next Tuesday morning.

Mr Jackson - who has denied 10 counts of child molestation - has been waving at fans from the hospital windows.

Medical tests

Late on Tuesday, Chuck Merrill, a physician at the Marian Medical Center, said Mr Jackson was suffering from "a flu-like illness with some vomiting."

He was undergoing testing and receiving intravenous fluids but was said to be in a stable condition.

"We expect a full recovery," he said.

He added Mr Jackson would be able to leave "when he is stable and well enough to go home".

The drama unfolded on Tuesday morning when the singer was picked up from his Neverland ranch at 0805 local time (1605 GMT) to be taken to the court in Santa Maria.

Media outside the Marian Medical Center
The world's media gathered outside the Marian Medical Center

The journey was diverted to the Marian Medical Center after he became ill.

Mr Jackson's lawyer Thomas Mesereau said the singer had been rushed to an emergency room and was "very, very ill".

Judge Rodney Melville and the lawyers then took part in a lengthy conference call with a doctor at Marian Medical Center who told him Mr Jackson was suffering from " a serious case of flu".

Mr Jackson had been due to appear in court for the second day of the individual questioning of potential jurors in the case.

His legal team and the prosecution began the process of questioning prospective jurors on Monday. Jury selection is expected to be completed by the beginning of March.

If convicted, Mr Jackson could face a maximum sentence of 21 years in prison.
Source: www.bbc.com
http://news.bbc.co.uk/2/hi/entertainment/4269645.stm
Support Caprivi Freedom
Fill out the form below to become a member of this site and receive our regular newsletter.