News and Information
---
Zimbabwe election chief arrested
February 16, 2005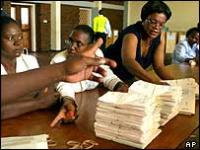 Votes being counted
The MDC fears the outcome has already been decided
Zimbabwe's opposition has said the head of their election campaign team has been arrested by police.

The Movement for Democratic Change (MDC) said Ian Makone was detained when security forces broke up a meeting at a hotel in the capital, Harare.

The country is due to hold parliamentary elections on 31 March.

The MDC's Paul Themba Nyathi said it made a "mockery" of government assertions that the poll would be free and fair.

He said the police raided the meeting saying it was against the public order and security act, which bars all public meetings that do not have police clearance.

There has been no word from the police about the arrest.


We are participating in this election with a heavy heart and under protest
Paul Themba Nyathi
MDC spokesman

President Robert Mugabe's ruling Zanu-PF party has promised to abide by democratic guidelines set by the regional body Sadc.

"The disruption of MDC meetings is a clear violation of the Sadc guidelines on the conduct of free and fair elections," Mr Nyathi said.

"We reiterate our position that we are participating in this election with a heavy heart and under protest."

The US and the European Union have imposed sanctions on the president and his close associates, accusing him of using violence and electoral fraud in the 2002 presidential election.

Mr Mugabe denies the accusations and says western countries are seeking his removal because of his policy to seize white-owned land for redistribution to blacks.
Source: www.bbc.com
http://news.bbc.co.uk/2/hi/africa/4271653.stm
Support Caprivi Freedom
Fill out the form below to become a member of this site and receive our regular newsletter.