News and Information
---
Unrest as Zambia poll verdict due
February 16, 2005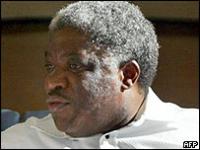 President Levy Mwanawasa
The president says he will step down if the ruling goes against him
Police have fired tear gas outside the Supreme Court in Zambia where a ruling is expected on a challenge to the December 2001 presidential election.

The BBC's Musonda Chibamba says police intervened when ruling party supporters awaiting the verdict started to beat up a rival supporter.

The legal action has been brought by three opposition candidates.

President Levy Mwanawasa has said he will leave office if the poll is found to be invalid.

Confident

He narrowly won presidential elections more than three years ago, which opposition parties claim were subject to fraud and ballot-rigging

Confident of a positive outcome, Mr Mwanawasa's ruling Movement for Multiparty Democracy supporters are singing and drumming outside court, our correspondent says.

Opposition supporters of the three opposition presidential candidates Anderson Mazoka, Christon Tembo and Godfrey Miyanda are more subdued, she said.

Mr Mazoka and Mr Tembo are asking the Supreme Court to scrap the election results, while Mr Miyanda is demanding a recount.
Source: www.bbc.com
http://news.bbc.co.uk/2/hi/africa/4271925.stm
Support Caprivi Freedom
Fill out the form below to become a member of this site and receive our regular newsletter.