News and Information
---
Iran to aid Syria against threats
February 16, 2005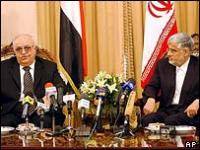 Syrian Prime Minister Naji al-Otari and Iranian Vice-President Mohammad Reza Aref
Syria and Iran said they were facing "numerous challenges"
Iran has vowed to back Syria against "challenges and threats" as both countries face strong US pressure.

"We are ready to help Syria on all grounds to confront threats," Iranian Vice-President Mohammad Reza Aref said after meeting Syrian PM Naji al-Otari.

Washington has accused Tehran of seeking nuclear weapons and has withdrawn its envoy to Damascus.

US tensions with Syria have soared since Monday's killing of former Lebanese PM Rafik Hariri in a bombing.


To point to Syria in a terrorist act that aims at destabilising both Syria and Lebanon is truly like blaming the US for 9/11
Buthaina Shaaban
Syrian cabinet minister
Many Lebanese blame the car bombing in Beirut on Syria, but the Syrian government has denied it was responsible for the blast.

The US has recalled its ambassador to Syria in protest at the attack, although it has not directly accused Damascus of responsibility.

US Secretary of State Condoleezza Rice told a Senate foreign affairs committee hearing the decision was a culmination of " long series of problems" with Syria - notably allegations that Damascus has harboured Iraqi insurgents and allowed them to cross into Iraq to fight against US troops.

Envoy Margaret Scobey held talks with the Syrian foreign ministry before her departure.

Earlier, the Russian Defence Ministry confirmed it was discussing the possibility of selling missiles to Syria.

Talks are said to be focusing on a short-range anti-aircraft missile system, known as Strelets.

'Numerous challenges'

Washington is considering new sanctions against Syria because of its refusal to withdraw its 14,000 troops from Lebanon.

US Assistant Secretary of State William Burns, visiting Beirut for Mr Hariri's funeral on Wednesday, called for a "complete and immediate withdrawal".

But Syrian Expatriate Affairs Minister Buthaina Shaaban said she was "baffled" by the US reaction to the killing.

"To point to Syria in a terrorist act that aims at destabilising both Syria and Lebanon is truly like blaming the US for 9/11," she told the BBC.

The minister said Mr Hariri had been a "great ally" to Syria and his death was "a scandal against Syria and against Lebanon".

'Not US enemies'

But BBC diplomatic correspondent Jonathan Marcus says the Syrian authorities are looking increasingly isolated, with only the Iranians speaking up on their behalf.

In Tehran, Syrian Prime Minister Otri said his meeting with the Iranian leadership was taking place at a "very important and delicate time, with Syria and Iran facing numerous challenges".

Iran's vice-president said his country would stand with Syria.

"Our Syrian brothers are facing specific threats and we hope they can benefit from our experience. We are ready to give them any help necessary," Mr Aref said.

However, Syria's ambassador in the US denied that the common front was an alliance against Washington.

"We are not the enemies of the United States, and we do not want to be drawn into such an enmity," Imad Moustapha told CNN.

The meeting came as Iranian Intelligence Minister Ali Yunesi said the US had been flying surveillance drones over its nuclear sites.

Washington has hinted it may take military action against Iran over its nuclear programme, which the US says is aimed at producing a bomb.

Meanwhile Israeli Foreign Minister Silvan Shalom, speaking in London, said Iran was just six months away from making a bomb.

Iran says its nuclear programme is not military.
Source: www.bbc.com
http://news.bbc.co.uk/2/hi/middle_east/4270859.stm
Support Caprivi Freedom
Fill out the form below to become a member of this site and receive our regular newsletter.