News and Information
---
No unity, no new Cabinet
February 16, 2005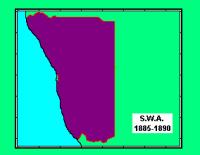 JATA KAZONDU

NAMIBIA'S President-elect Hifikepunye Pohamba has declined to appoint Cabinet members until the Swapo Party clears up issues related to disunity and tribalism.

Sources who attended the party's Politburo meeting in Windhoek last week revealed to Nampa yesterday that Pohamba told the party leadership that he did not see any reason why he should appoint ministers and their deputies while there are some people within the party who are not working together as a team.

The ruling party's Politburo is said to have resolved to establish a committee to address the disunity before the President-elect appoints his Cabinet.

Pohamba, who is Minister of Lands, Resettlement and Rehabilitation and Swapo Vice President, is expected to announce his new Cabinet on March 21 - the day on which he will be sworn in as Namibia's second Head of State.

Pohamba considers the issue of tribalism and disunity within Swapo as a serious threat to the future of the party, so much so that he dedicated the greater part of his speech at the official opening of the Swapo Party regional leadership forum in Windhoek on Sunday to the issue.

He told leaders of various Swapo branches and constituencies within the Khomas Region that elements of tribalism and ethnicity emerged immediately after the party decided to nominate three people to contest the party's candidature for the 2004 Presidential election.

Pohamba emerged victorious against former Foreign Affairs Minister Hidipo Hamutenya and Education Minister Nahas Angula and went on to win the Presidential election in November 2004.

Wary that instability within the party could jeopardise his Presidency, Pohamba did not mince his words as he told a packed hall of Swapo members that tribalism and ethnicity would not be tolerated.

He said last year's contest for the position of party presidential candidate should not have been allowed to lead some people to suddenly remember that they belong to this or the other tribe.

"Yes, indeed we belong to tribes but in Swapo we are united. We are here under the umbrella of the unity of Swapo and we must keep unity within the party because disunity in Swapo will cause problems for this country," Pohamba said.

He said disunity in the party would destroy Namibia, as well as the peace that everyone in the country enjoys.

"I therefore want to appeal to all of you as leaders to condemn and fight against tribalism and all other evils that are prevented by the party constitution as well as the Namibian constitution," said Pohamba.
Source: www.namibian.com.na
http://www.namibian.com.na/
Support Caprivi Freedom
Fill out the form below to become a member of this site and receive our regular newsletter.