News and Information
---
Iraq poll winners 'nominate PM'
February 15, 2005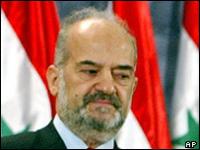 Iraq poll winners 'nominate PM'
Ibrahim Jaafari
Mr Jaafari was nominated by the Shia alliance as Iraq's next premier
The Shia Muslim coalition that won Iraq's election has chosen Ibrahim Jaafari as its prime ministerial candidate, sources have said.

Mr Jaafari leads the Daawa party, one of two leading religious parties in the bloc that won nearly half the vote.

The United Iraqi Alliance (UIA) lacks a parliamentary majority and will need to form a coalition government.

Before the result can be confirmed, electoral officials are examining a number of complaints into the poll.

Moves to form a new government are already under way, though it may be several weeks before an administration is decided.

Mr Jaafari, one of two current interim vice-presidents, was named one of Iraq's most influential personalities in an opinion poll last year.

The father-of-five was among the first Iraqis to return from exile after the fall of Saddam Hussein in April 2003.

"If we win, we will govern as Iraqis, not just as Shias. We will ensure the participation of other communities," he told AFP news agency before the elections.

According to provisional results, the Shia United Iraqi Alliance (UIA), which is backed by the top Shia cleric in Iraq, Grand Ayatollah Ali Sistani, polled 48% of the 30 January vote.

The Supreme Council for the Islamic Revolution in Iraq (Sciri), the other main party in the Shia alliance, is backing Mr Jaafari and has withdrawn its candidate for prime minister, Adel Abdel Mahdi.

Kurdish groups, which came second - considered as potential coalition partners - have said they want the presidency.

Their candidate for the post is Jalal Talabani, leader of the Patriotic Union of Kurdistan.

Iraq's new government will have a president, two vice-presidents, and a prime minister heading a cabinet.

One of the new parliament's main jobs will be to write a constitution.

'Credible election'

Electoral commission official Abdel al-Lami said the commission had received a handful of complaints, which is delaying the final tally.


PROVISIONAL RESULTS
Turnout total - 8.456 million
Registered voters - 58%

US unease at results

He said the small number of complaints was "evidence of the transparency and credibility of the electoral process".

Complainants have until Wednesday to challenge the results, and it could be several days after that before the final outcome is declared.

Kidnappers in southern Iraq, meanwhile, have released a Turkish shipping magnate after holding him for two months.

Kahraman Sadikoglu, who owns the Istanbul-based Tuzla Shipyard, was freed after his family paid a large ransom, Turkish newspapers report.

The Turkish foreign ministry said Mr Sadikoglu was flown to Baghdad after being freed on Monday night.
Source: www.bbc.com
http://news.bbc.co.uk/2/hi/middle_east/4267091.stm
Support Caprivi Freedom
Fill out the form below to become a member of this site and receive our regular newsletter.