News and Information
---
Kyoto Protocol set to take effect
February 15, 2005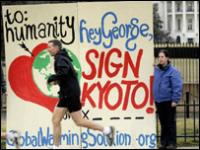 Kyoto Protocol set to take effect
Protestors in Washington, AFP
Environmentalists plan to hold protests around the world to mark the treaty coming into force
The Kyoto Protocol, which aims to slow down global warming, will come into effect on Wednesday.

Most of the industrialised world has ratified the treaty, promising to slash greenhouse gas emissions.

A total of 141 countries have signed up, but the US and Australia have abstained, for economic reasons.

The treaty comes into force 90 days after Russia's crucial decision to ratify it in November 2004.

Russia's entry was vital, because for the treaty to work, it has to be ratified by nations accounting for at least 55% of greenhouse gas emissions. This target was only met after Russia joined.

Individual targets

The protocol, which becomes a legally binding treaty at 0500 GMT on 16 February 2005, demands a 5.2% cut in greenhouse gas emissions from the industrialised world as a whole, by 2012. Each country has been set its own individual targets according to its pollution levels.

Growing developing countries China and India are outside the framework, a fact pointed out by US President George W. Bush when he abandoned Kyoto as one of his first acts when taking office in 2001.

"The countries outside the treaty say they will take measures on their own but I wonder if they can work," said Japan's Foreign Minister Nobutaka Machimura.

"We want to continue urging them to join the protocol."

Environmentalists plan to hold protests around the world, including Kyoto, to mark the treaty coming into force - with many targeting the United States.

The main ceremony to mark the entry of Kyoto will be held in the ancient Japanese capital where the treaty was reached in 1997. Speakers are to include Nobel Peace prize winner Wangari Maathai.

Ms Maathai, an ecologist and Kenya's deputy environment minister, said the Kyoto Protocol would require not just efforts from governments and businesses, but also a change in the way people live.

"One of the reasons why some of the countries don't want to support the Kyoto Protocol is exactly because they don't want to reduce their over-consumptive life pattern," Ms Maathai, the first African woman to win the Nobel Peace Prize, said.

"One way of reducing that over-consumption is by learning to reuse a lot of the resources that we use and just throw away."

Tough goals

But even for countries that have signed up to Kyoto, meeting the goals could be difficult.

Canada, one of the treaty's first signatories, has no clear plan for reaching its target emission cuts.

Far from cutting back, Canada's emissions have continued to grow, increasing by 20% since 1990.

And Japan is also unsure it will be able to meet its legal requirement to slash emissions by 6% from 1990 levels by 2012.

"Japan will make all efforts to respect the rules of the Protocol," said Takashi Omura, an official at the Japanese environment ministry. "It will neither be easy nor insurmountable."
Source: www.bbc.com
http://news.bbc.co.uk/2/hi/science/nature/4267245.stm
Support Caprivi Freedom
Fill out the form below to become a member of this site and receive our regular newsletter.