News and Information
---
Kenya reshuffle after graft ban
February 14, 2005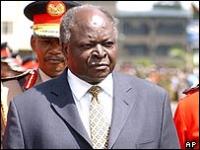 Donors are frustrated at President Kibaki's failure to act against suspects

Kenyan President Mwai Kibaki has reshuffled his cabinet, after intense pressure to tackle high-level graft.

Several ministers have moved including National Security Minister Chris Murungaru, a key presidential aide.

The Kenya Anti-Corruption Commission has been asked to investigate procurement by his department.

Earlier, the UK government issued a travel ban on unnamed ministers and businessmen implicated in corruption.

Mr Murungaru was told to swap posts with Transport Minister John Michuki, a move seen as a demotion for him.

The BBC's Caroline Karobia in Nairobi says the decision not to sack any ministers in the cabinet shake-up is likely to disappoint Kenyans who elected the government on an anti-corruption platform.


Fight

Last week, top anti-corruption adviser John Githongo resigned, saying he could no longer serve the government.

Two weeks ago, a list of 20 suspicious deals was handed to Mr Kibaki by the UK High Commissioner Sir Edward Clay who said graft was at the heart of government in Kenya, affecting at least four ministries.


The president must take decisive action to save the government and the country from this ignominy



Peter Anyang' Nyong'o
First Planning Minister



Is corruption getting worse in Africa?


The High Commission said barring those alleged to be involved was a strict implementation of rules applying to foreigners wishing to enter the UK and was not a new policy.

The US administration last week decided to suspend more than $2m in funding to the Kenyan government to combat corruption.

President Kibaki came to power two years ago promising to make fighting corruption a top priority.

Last week he rejected suggestions that he had lost the political will to fight graft and ordered an inquiry.

"There should be no doubt in anybody's mind about our commitment to winning the fight against graft," he said.

Most donors cut off aid under former President Daniel arap Moi, citing corruption. They restored funding under Mr Kibaki.

The UK high commission says it is still waiting for a response to the information contained in the graft dossier.

A Transparency International survey of perceived corruption rated Kenya 122nd out of 133 countries in 2003.
Source: www.bbc.com
http://news.bbc.co.uk/2/hi/africa/4265435.stm
Support Caprivi Freedom
Fill out the form below to become a member of this site and receive our regular newsletter.