News and Information
---
Somalis march against peace force
February 14, 2005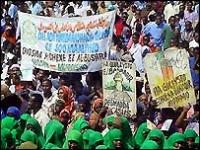 Not all Somalis welcome the idea of foreign troops

Thousands of Somalis have demonstrated in the capital, Mogadishu, against plans to send a peacekeeping force.

Islamic groups organised a similar march on Friday but the latest protest involved several different groups.

A 16-member African Union mission to assess the security situation has arrived in the capital, Mogadishu.

President Abdullahi Yusuf has asked the AU for a large peacekeeping force to allow his Kenya-based government to relocate to Somalia.

Ethiopia has meanwhile confirmed that it is ready to send troops to Somalia, according to the AFP news agency.

Ethiopian participation is controversial because it has been involved in the power-struggles which have raged in Somalia since 1991.

Anarchy

The demonstrators said they were opposed to the involvement of any of Somalia's neighbours - Ethiopia, Kenya and Djibouti.

We will contribute in every aspect to the force



Simon Berekat
Ethiopian Information Minister

These countries all have Somali-speaking groups and have been accused of interfering during Somalia's 14 years of anarchy.

"We have decided to participate in the peacekeeping force of [regional body] Igad in Somalia," Ethiopia's Information Minister Berekat Simon told AFP.

"We will contribute in every aspect to the force."

The organisers of the march, however, stressed that they supported the government and would accept peacekeepers from other countries.

Correspondents say Mr Yusuf needs outside security if he is to operate safely in the city.

He is from the northern region of Puntland, has no ties with the clans controlling the capital and is seen as being close to Ethiopia.

Mogadishu remains under the control of rival warlords and their gun-toting militiamen.

These warlords have all been named in Mr Yusuf's government but their gunmen have not started to disarm.
Source: www.bbc.com
http://news.bbc.co.uk/2/hi/africa/4262949.stm
Support Caprivi Freedom
Fill out the form below to become a member of this site and receive our regular newsletter.