News and Information
---
A stream of names, looking for faces to match in treason trial
February 14, 2005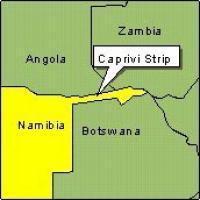 WERNER MENGES

at GROOTFONTEIN

THE Caprivi high treason trial's fourth prosecution witness last week proved to be a treasure trove of information on the names of people who he said were involved in the activities of a separatist movement in the Caprivi Region some six years ago.



While names came freely, matching those names to faces and actual persons in court proved to be more of a struggle, though.

Since Tuesday afternoon last week, State witness Michael Maswabi Nuwe has been giving Judge Elton Hoff a detailed account of events involving an armed movement that he said aimed to "fight the Wambos" in order to secede the Caprivi Region from Namibia.

In the process, Nuwe has been telling the court scores of names of people that he claimed were involved in that movement, just like he said he had been.

But that was where the crunch came in, because without a face - and specifically, the face of an accused person before court - being tied to a name that a witness mentions, that name is just that - just a name.

It is in such a quandary that parts of Nuwe's evidence have left the prosecution.

Among the names Nuwe mentioned as people who were with him, either on a journey to Zambia and Angola or subsequently at a training camp for recruits to a secessionist armed force in the Sachona area in the Caprivi Region, were John Samboma, Thaddeus Ndala, Oscar Puteho, Postrick Mwinga, Albert Mangilazi and Victor Masiye Matengu.

He also mentioned the names Charles Mushakwa, Aggrey Makendano, Phelem Mutuwangele and Osbert Likanyi, telling the court that they were among Namibian refugees that he met at the Dukwe refugee camp in Botswana after he had left Namibia in early December 1998.

All of those names are also the names of accused persons in the dock before Judge Hoff.

But Nuwe was able to identify only the Ndala, Mwinga, Mangilazi, Mushakwa, Makendano, Likanyi and Mutuwangele present in court as the people he was talking about.

Significantly, he did not recognise either Samboma - who is alleged to have been the commander of the separatist movement's armed wing, the Caprivi Liberation Army - or, initially at least, Puteho among the men in the dock.

That was despite having taken close to ten minutes on Tuesday afternoon to look through the ranks of the accused after he was allowed to move closer to the dock in order to get a better look at the people seated there.

He was given another opportunity to do the same on Wednesday, more chances to do the same on Thursday, and yet another chance on Friday.

By the time Nuwe went through these dock identification exercises, though, both the John Samboma before court and one of the trial's two suspects that are both named Oscar Puteho had moved from their original seats in the centre of the front bench of the dock to a corner at the very back of the dock.

Only when he was given a fourth chance to once again approach the dock on Thursday did Nuwe manage to point out Oscar Muyuka Puteho as the person he had been referring to in his testimony.

But then he went on to make a potentially major mistake.

He identified the wrong person as John Samboma.

Nuwe had claimed that in October 1998 a John Samboma had led him and some sixty other people on a journey to Zambia and Angola on an unsuccessful mission to get weapons and training at a Unita camp.

After that, Puteho had provided weapons training at a separatist camp that was established in the Sachona area in the Caprivi Region, and he was also the person who gave an order that anyone who escaped from the camp should be shot, Nuwe testified.

He added that Samboma was in command of the camp, and that Ndala was also one of the instructors at Sachona.

Osbert Likanyi, he said, had led a group of people that escaped from Dukwe in April 2001.

They returned to the Caprivi Region on a mission to once again take up fighting for the secessionist cause, but ended up spending some three months moving around stealthily in the bush with the struggle to find food, rather than military plans, being at the top of their list of priorities, his testimony indicated.

Nuwe is set to return to the witness stand to face cross-examination from defence lawyers tomorrow.
Source: www.namibian.com.na
http://www.namibian.com.na/
Support Caprivi Freedom
Fill out the form below to become a member of this site and receive our regular newsletter.