News and Information
---
Iraqi insurgent attacks kill many
February 11, 2005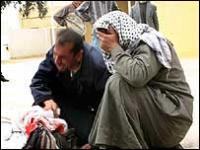 Men cry over the body of a relative killed by a bomb outside a mosque
The killings contrast with earlier attacks targeting security forces
More than 20 people have been killed in Iraq in attacks outside a mosque and on a bakery.

The violence came as US Defence Secretary Donald Rumsfeld visited the country to review the training of Iraqi security forces.

A car bomb exploded outside a Shia mosque northeast of Baghdad, killing at least 13 and injuring up to 40.

Earlier on Friday, nine people were killed after gunmen opened fire in a bakery in the Iraqi capital.

The BBC's Jon Leyne, in Baghdad, says these killings contrast with attacks earlier this week mainly targeted at Iraqi security forces.


It is the Iraqis who have to over time defeat the insurgency
US Defense Secretary Donald Rumsfeld

He said the latest episodes of violence appeared to be designed to pit Shias against Sunnis, but it was too early to draw any immediate conclusions.

The mosque blast took place in the town of Balad Ruz as worshippers were leaving after Friday prayers.

Three children are believed to be among the victims, as well as a number of Iraqi National Guard troops.

According to witnesses, the bomb was hidden in a truck carrying vegetables parked in front of the mosque. It went off when Iraqi troops approached it.

It has been suggested that a tribal dispute may have triggered the bakery attack. A police station opposite was not touched.

The attack took place in the Amin area of Baghdad, a mixed - but Shia dominated - neighbourhood.

Rumsfeld visit

Meanwhile, US Defense Secretary Donald Rumsfeld is paying a one-day visit to Iraq, his eighth in all to the country.

Coffins driven away following Baghdad bakery attack
An earlier attack on a Baghdad bakery killed nine people
His spokesman says it is aimed at reviewing the training of Iraqi security forces and celebrating the recent Iraqi elections.

In an address to US troops upon landing at the Mosul airfield, he said they had shown "that America is in fact a land of liberators, not a land of occupiers".

But he underlined the importance of local security forces in taking control of the situation: "It is the Iraqis who have to over time defeat the insurgency."

Hours earlier, 10 Iraqi police were killed during a fierce gun battle late on Thursday in Salman Pak, south-east of Baghdad.

Insurgents ambushed a police convoy which was searching for those responsible for an earlier car bomb attack and the shooting went on for two hours.

According to police sources, one of the problems was that they simply ran out of petrol for their police cars, and had to abandon some of them.

US forces were called in and used helicopters to fire missiles in order to dislodge insurgents who had overrun a police station.
Source: www.bbc.com
http://news.bbc.co.uk/1/hi/world/middle_east/4257273.stm
Support Caprivi Freedom
Fill out the form below to become a member of this site and receive our regular newsletter.