News and Information
---
Blair outlines election pledges
February 11, 2005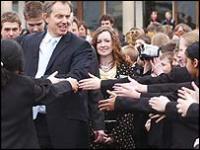 Tony Blair meets pupils at Myton School in Warwick
Labour pledges to drive up educational standards
Tony Blair has arrived at Labour's spring conference in Gateshead after a whistle-stop tour of England signing his party's pre-election pledges.

Starting in London, he visited marginal constituencies pledging to build on Labour's achievements in the economy, crime, education and public services.

But the Conservatives and Lib Dems described the pledges as "worthless".

Meanwhile, John Prescott warned Labour delegates not to be complacent that the party would win a third term.

'Trust us'

Mr Blair kicked off his tour at Battersea Reach housing development in Wandsworth, south London, with pledges to raise the minimum wage, do more to help first-time buyers and encourage more people off benefits and into work.

"We'll make sure that the British people get the economy that we need and also that we equip them for that economy in the 21st Century," he told Labour activists.


I can't tell you that because I don't know it
Tony Blair on the date of the general election

Pledges: At a glance
Labour's track record

Chancellor Gordon Brown said Labour was the only government that could be trusted with the British economy.

Mr Blair sidestepped questions about the date of the general election, widely expected to be 5 May, saying: "I can't tell you that because I don't know it."

He refused to give a pledge on tax and praised Mr Brown's management of the economy.

Waiting lists

In Kettering, Mr Blair signed a pledge card emblazoned with the phrase "Your family treated better and faster".

He told staff at Kettering General Hospital, in Northamptonshire, that current waiting list targets of nine months for an in-patient appointment would be brought down to six months and then 18 weeks in 2008.

Hunt supporters
Hunt supporters protest outside the Labour conference in Gateshead

"Having brought these waiting times down, we've got to do a lot better," Mr Blair said.

Health Secretary John Reid said: "We have halved waiting times for operations and if Labour is elected for the next four years, then we are going to halve them again, and then halve them again."

Mr Blair was greeted by pro-hunting supporters carrying banners as he arrived at Myton School in Warwick to launch Labour's education pledge "Your child achieving more".

Illegal immigration

They were prevented from getting close to the prime minister, who went on to outline his party's plans to ensure modern schools for all, strong discipline and a guaranteed place in training, the sixth form or an apprenticeship.


It is striking that Labour's economic pledge doesn't say a single word about tax
Oliver Letwin

The waiting game

In Yorkshire, Mr Blair stopped off to pledge the introduction of ID cards and the enforcement of "strict controls that work to combat asylum abuse and illegal immigration".

Under the heading of "Your Community Safer" Labour's fifth pledge promises "local policing teams cracking down on graffiti, gangs and drug dealers".

But Tory leader Michael Howard questioned why voters should believe Mr Blair's pledges.

"Mr Blair has had eight years and now, just weeks before an election, he expects people to believe that he's suddenly going to get a grip on the problems Britain faces," he said.

"Hard working families who play by the rules and pay their dues know that Britain is heading in the wrong direction."

'Stunt'

Lib Dem chairman Matthew Taylor said: "From tuition fees to the war in Iraq, Labour has failed to be honest and straightforward with the public."


HAVE YOUR SAY
We all know that at election time, words speak louder than actions
Dave Godfrey, Swindon, UK

Send us your comments

Mr Blair's tour was a "stunt which might have been believable in 1997 but it just won't wash with the British public now", he added.

The prime minister ended his helicopter trip at Labour's spring conference in Gateshead, where thousands of pro-hunt supporters have gathered to protest against next week's ban.

Mr Prescott called for party unity and told delegates: "We have got every reason to be proud of what we have done, but we can't be complacent - the threat is real."
Source: www.bbc.com
http://news.bbc.co.uk/1/hi/uk_politics/4255791.stm
Support Caprivi Freedom
Fill out the form below to become a member of this site and receive our regular newsletter.