News and Information
---
Abbas sacks Gaza security chiefs
February 10, 2005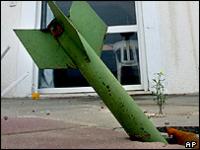 Hamas rocket in Israeli home
Hamas' rockets damaged property but did not cause any casualties
Palestinian leader Mahmoud Abbas has sacked top security commanders in the Gaza Strip just hours after militants violated a truce agreement with Israel.

The dismissals are "punitive measures" against officers who failed to do their duty, a spokesman for Mr Abbas said.

Gen Abdul Razek Majaidie, Saeb al-Ajez and Omar Ashour are reportedly among those forced out of their jobs.

Hamas militants say a mortar attack on an Israeli settlement was a response to violence not a breach of the ceasefire.

It said it was retaliating for the death of a Gaza man killed by Israeli fire overnight.

Earlier, Mr Abbas ordered his security forces to prevent a repeat of the 30-shell mortar attack, which caused damage but no injuries in the Gush Katif settlement in southern Gaza.

Mr Abbas gave "strict instructions" to prevent further threats to the ceasefire he agreed with Israel on Tuesday.

Security veterans

He is to travel to Gaza on Friday to tell the militants he will not tolerate any more violence, Palestinian cabinet official Hassan Abu Libdeh told the Associated Press news agency.

Palestinian officials said Israel postponed security talks on Thursday as a result of the mortar attack, but Israel denied talks were scheduled.


Ariel Sharon and Mahmoud Abbas
Abbas told me simply that [prisoner release] is a major problem
Ariel Sharon, Haaretz interview

Hamas' manoeuvres
Q&A: Sharm summit

Hamas has said it is not bound by the ceasefire agreement.

The BBC's Alan Johnston in Gaza says the latest attacks are Hamas' way of showing Mr Abbas it will not be easily persuaded.

The men dismissed by Mr Abbas are largely veterans of the Gaza security establishment, our correspondent adds.

Alongside the continuing attacks on Israel, he says the new Palestinian leadership faces internal law and order problems in Gaza - as highlighted by a militant raid on a Gaza prison on Thursday morning, that left three prisoners dead.

Egypt accord

The Hamas mortar attacks started early on Thursday and lasted several hours, damaging houses but causing no injuries.

Hamas said it was avenging the death of a Palestinian man shot by Israeli troops as he walked near the Atzmona settlement in southern Gaza.


INTIFADA TOLL
3,225 Palestinians killed by Israelis (3,135 by military in the occupied territories, 54 by military inside Israel, 34 by settlers in the occupied territories)
950 Israeli killed by Palestinians (431 inside Israel, 218 settlers, 218 soldiers on duty in the occupied territories
Source: B'tselem

Intifada timeline

An Israeli military source said soldiers had suspected a militant infiltration and fired warning shots.

Thursday's attack was the first by Palestinian militants since Mr Abbas and Israeli Prime Minister Ariel Sharon declared an end to four years of violence at a summit in Sharm al-Sheikh, Egypt, on Tuesday.

A spokesman for the militants told the Reuters news agency they had "initiated calm" as Mr Abbas had requested, but would not "stand handcuffed" in the face of Israeli aggression.

Hamas had earlier said it would decide whether to join the ceasefire only after it had judged to what extent the Israelis were complying with their side of the agreement.

A senior Palestinian official said Thursday's attacks had led Israel to postpone security talks expected to cover the Israeli release of Palestinian prisoners and issues relating to Israel's withdrawal from some Palestinian areas.

However, a spokesman at the Israeli prime minister's office denied any talks were scheduled for Thursday.

Mr Sharon told the Haaretz daily on Thursday that he would be prepared to release some Palestinian prisoners convicted of attacking Israelis.

Mr Abbas made the issue a priority during the Sharm al-Sheikh summit.

Mr Sharon said certain prisoners could be freed if the proposed Israeli withdrawal from Gaza went smoothly.

Israel has previously refused to release Palestinians convicted of violent attacks.
Source: www.bbc.com
http://news.bbc.co.uk/2/hi/middle_east/4254725.stm
Support Caprivi Freedom
Fill out the form below to become a member of this site and receive our regular newsletter.