News and Information
---
Leaders condemn N Korea threats
February 10, 2005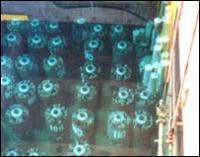 plutonium-laden spent fuel rods in monitored storage [photo: Jon Wolfsthal]
North Korea is believed to have built a handful of nuclear weapons
World leaders have condemned North Korea for pulling out of international talks and renewing pledges to boost its nuclear arsenal.

The US said Pyongyang would only deepen its isolation if it did not resume negotiations over its nuclear future.

But nations also struck a conciliatory tone, urging North Korea to return to the six-country talks.

Earlier North Korea said the dialogue was pointless amid US hostility and repeated a claim to have nuclear arms.

White House spokesman Scott McClellan dismissed the North Korean statement as "rhetoric" and said the US remained "committed to a peaceful diplomatic solution".

But earlier US Secretary of State Condoleezza Rice called for a change of heart in Pyongyang.


There is no justification for us to participate in the six-party talks again, given that the Bush administration termed [us] an 'outpost of tyranny'
North Korean statement

Statement in full
Why Korea won't talk

"The world has given them a way out and we hope they will take that way out," she said at a news conference with European Union leaders.

UK Foreign Secretary Jack Straw's reaction was blunter.

"It would be a major mistake for the DPRK [North Korea] to go down that route," he said of the threat to leave the talks.

But UN Secretary General Kofi Annan said other countries could persuade Pyongyang to return to negotiations.

"I urge them to engage North Korea and bring them back to the table as quickly as possible," he said in a news conference with Mr Straw.

Russia's foreign ministry said the suspension could "only cause regret".

A senior South Korea official said: "We make it clear that we won't tolerate the North's nuclear weapons."

Deadlock

Several rounds of talks - involving North and South Korea, the US, China, Russia and Japan - have been held in the past two years in an effort to resolve concerns about Pyongyang's nuclear programme, but little progress has been made.


US RHETORIC ON NORTH
19 Jan: Condoleezza Rice refers to North as an "outpost of tyranny"
20 Jan: No mention in George Bush's inauguration speech, though US goal was to "end tyranny in our world"
2 Feb: Mr Bush's State of the Union address says US working with governments in Asia to convince North Korea to abandon nuclear ambitions

'Outposts of tyranny'

In its latest statement, the North Korean foreign ministry said: "We have wanted the six-party talks but we are compelled to suspend our participation... for an indefinite period."

It added that Pyongyang would take "a measure to bolster its nuclear weapons arsenal" in order to "protect its ideology, system, freedom and democracy" - but gave no details.

This was North Korea's most explicit public assertion that it possesses nuclear weapons. Senior members of the regime have privately spoken about its nuclear capability on several occasions in the past.

US and other intelligence agencies believe the North could already have built a small number of weapons, variously estimated at between two and 10.

North Korea's anger appears to be directed at several speeches made by President George W Bush and other members of his administration at the start of their second term in office.

"The second-term Bush administration's intention to antagonise the DPRK and isolate and stifle it at any cost has become quite clear," the statement said.
Source: www.bbc.com
http://news.bbc.co.uk/2/hi/asia-pacific/4254439.stm
Support Caprivi Freedom
Fill out the form below to become a member of this site and receive our regular newsletter.