News and Information
---
Asia heralds Year of the Rooster
February 9, 2005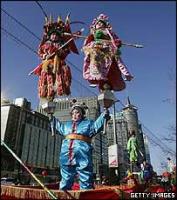 Chinese children dressed in traditional costumes perform outside a temple on New Year's Day February 9, 2005 in Beijing
There was a party atmosphere in Beijing on Wednesday
Communities across Asia have been celebrating the lunar new year and the start of the Year of the Rooster.

In China, millions of people and migrant workers have travelled home for the festivities.

President Hu Jintao visited one of China's poorest regions, Guizhou, where he prepared traditional cakes.

In Vietnam, traditional dishes made from chicken were off the menu as the country battles to contain a deadly outbreak of bird flu.

In the Indonesian province of Aceh, ethnic Chinese have held somewhat muted new year celebrations.

Many gathered at temples to mourn the dead from last year's tsunami disaster. An estimated 600 Chinese-Indonesians died in the disaster.

Businesses and government offices across Asia were closed on Wednesday to mark the beginning of year 4072 in the Chinese calendar.


LUNAR NEW YEAR
Model roosters in China - 8/2/05
Dates from 2600 BC
A complete cycle takes 60 years, divided into 12 year elements
Each of these 12 years is named after an animal
The year you were born is said to influence your personality
Rooster years can often bring bad luck
Past Rooster years: 1909, 1921, 1933, 1945, 1957, 1969, 1981, 1993

In pictures: New Year celebrations
Send us your experiences

In Beijing, tens of thousands of people braved the icy wind to visit temples and pray for good fortune.

"I hope my work will go smoothly and my parents will have good health," civil servant Liu Yijue told the French news agency AFP.

Millions of other Chinese had already left the cities to travel back to their hometowns to be with their families for the most important holiday of the year.

In Hong Kong, hundreds of people trekked to the Lam Tsuen Wishing Tree to write a wish on a piece of paper, tie it to an orange and throw it into the tree's branches.

In Malaysia, where 30% of the population is ethnic Chinese, many people are said to have ignored a ban on fireworks, to set off firecrackers to mark the start of the new year.

In Taiwan, newly appointed Prime Minister Frank Hsieh said he wished for improved relations between Beijing and Taipei in the coming year.

"I wish for good weather in Taiwan and happiness for the people. I also hope for cross-strait and social stability, and a prosperous economy," he is quoted as saying.

In the Chinese mainland, President Hu - who spent the holiday at the home of a family from the impoverished Miao minority in China's south - also spoke of social cohesion.

Local residents burn incenses and pray for luck at Hsing Tien Temple in Taipei, 9 feb
Many Taiwanese went to temples to pray for the coming year

"Our country is a united, multi-ethnic socialist country. Every ethnic group has made an important contribution to our nation's development and progress," he said.

Even the people of secretive North Korea are reported to have joined the new year celebrations, according to the state's official KCNA news agency.

Pyongyang is said to be festooned with colourful decorations and national flags.

In contrast to the celebratory atmosphere, an international human rights group said on Wednesday that the number of executions in China had soared in the run-up to the new year holiday.

According to Amnesty International, at least 650 people were executed in the two months leading up to the new year - 200 of them in the last fortnight.
Source: www.bbc.com
http://news.bbc.co.uk/2/hi/asia-pacific/4248987.stm
Support Caprivi Freedom
Fill out the form below to become a member of this site and receive our regular newsletter.