News and Information
---
Loss of lawyers leaves leading treason suspects in a pickle
February 9, 2005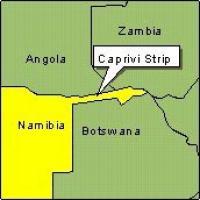 Loss of lawyers leaves leading treason suspects in a pickle
WERNER MENGES at GROOTFONTEIN

TO cross-examine, or not to cross-examine? That became the crucial question for two of the accused in the Caprivi treason trial in the High Court at Grootfontein yesterday.

The trial before Judge Elton Hoff appeared to be picking up speed yesterday, when the third State witness, Liwate Oscar Simbulu, approached the end of his testimony on his fourth day at the witness stand - in contrast to the second State witness, who spent nine days in the witness box.

But a fresh predicament cropped up for two of the accused men.

John Samboma, who allegedly commanded a separatist armed force in the Caprivi Region that called itself the Caprivi Liberation Army (CLA) from 1998 to late 1999, and an alleged member of that movement, Thaddeus Ndala, were both implicated by Simbulu in his testimony.

Simbulu told the court that Samboma had led a group of CLA recruits into Zambia and Angola during October 1998 on an abortive mission to receive training at a Unita camp in Angola.

Thereafter, Simbulu also claimed, Samboma was in charge of a CLA training camp in the area of Sachona, some 20 kilometres south of Kongola in the Caprivi Region.

Ndala was one of the people that helped to give training to the CLA members gathered there, Simbulu testified.

This potentially incriminating evidence landed Samboma and Ndala with the hard choice of what strategy they should pursue next.

That is because they are part of the group of 15 suspects who lost their legal representation last week because they insisted that they did not acknowledge Namibian courts' power to try them.

They did not want their trial to proceed before this issue had been heard and decided first.

The logical conclusion of that stance could be that they would refuse to play any further part in their trial.

Such a strategy would carry its own extreme risks, though, because it could result in severely incriminating testimony against them being left unchallenged.

It was the pickle of that predicament that Samboma and Ndala found themselves in yesterday.

Judge Hoff explained to them and the 13 other unrepresented accused that they would not get another opportunity to put their side of the case to the witness, and that the parts of the witness's testimony that they did not challenge might be accepted as evidence by the court.

Samboma's response was to tell the court that he wanted time until today to consult with Ndala and decide whether they would cross-examine Simbulu.

"I'm John Samboma, accused number 54. I still stand before you illegally, my Lord," Samboma told the Judge as he started to address the court.

"It's me who is implicated by this witness, falsely," he added after the Judge told him that he would not be allowed to address the court on issues on which the court had already ruled.

Judge Hoff ruled last week that the trial should proceed even if the 15 want to raise another challenge to the court's jurisdiction over them.

They would be able to bring such a challenge at any later stage, while they could in the meantime try to get legal representation to assist them with such an application, he ruled.

Judge Hoff also did not appear to be in any mood for further delays in the trial yesterday.

After Samboma asked to be given time to consult with Ndala, the Judge told him: "If there's any prejudice that is perceived by you then you are the author of the prejudice, no-one else. You have been provided by counsel for your defence, who has been rejected."

Samboma's response was to tell the Judge that he was a layman in law.

He reminded the Judge of what the latter himself had stated before: "You want to see justice being done.

You want to see fairness done.

My Lord, if you were a merciful judge at the time you said these words, and now you want to hold a hammer to crush whoever is being implicated in this case, then I have no power to instruct you what to do."

Samboma and Ndala will in any event be given a chance today to tell the court whether they want Simbulu recalled to the witness box to be cross-examined by them, Judge Hoff told them.
Source: www.namibian.com.na
www.namibian.com.na
Support Caprivi Freedom
Fill out the form below to become a member of this site and receive our regular newsletter.