News and Information
---
Danish PM fights for second term
February 8, 2005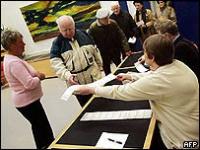 Polls showed at least 20% of voters were still undecided

Danes are voting in a general election widely expected to return Prime Minister Anders Fogh Rasmussen's centre-right coalition to power.

But the latest opinion polls indicate a tight race, with the opposition left-leaning parties gaining ground on the Liberal-Conservative coalition.

The coalition's anti-immigration ally, the Danish People's Party, may be on its way out into the cold, polls show.

The debate on Denmark's welfare state dominated the low-key campaign.

Economic boost

The healthy economy is expected to help Mr Rasmussen at the polls. This year's economic growth forecast is 2.4%, mirroring last year's.


Mr Rasmussen slipped in the polls but looks set to win nonetheless

Mr Rasmussen has pledged to keep Denmark's "fair and firm immigration policy" and work for better integration of immigrants. Along with descendants of immigrants they form 8% of the population.

About four million Danes are eligible to vote. Polls close at 2000 (1900 GMT), and definitive results are expected by 2230 GMT.

A Gallup poll on the eve of the election gave the ruling coalition 98 of parliament's 179 seats, against 77 for the centre-left parties.

The main parties avoided issues such as the Iraq war and the European constitution during the campaign.

Mr Rasmussen, in power since 2001, called the snap elections three weeks ago.
Source: www.bbc.com
http://news.bbc.co.uk/2/hi/europe/4245239.stm
Support Caprivi Freedom
Fill out the form below to become a member of this site and receive our regular newsletter.