News and Information
---
Togolese protest over new leader
February 8, 2005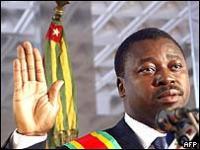 Heavily armed troops have been guarding the presidential palace

A two-day work stoppage called by Togo's opposition in protest at what they call a military coup has had a mixed response.

Some businesses and markets were shut in the morning but began opening later.

Public rallies have been banned and a two-month period of national mourning declared for President Gnassingbe Eyadema, who died on Saturday.

His son Faure Gnassingbe was installed as president on Monday after the constitution was hastily amended.

The BBC's Ebow Godwin says Lome is a divided city with the stay away observered more widely in the south of the capital than the north.

Many public sector employees went to work as normal.

In the northern sector, where people who mainly support the ruling party reside, life is getting back to normal with some children even attending school.

The West African grouping, Ecowas, will meet in emergency session on Wednesday to discuss the situation in Togo.

Its chairman, Mamadou Tandja, told the BBC that the events in Togo had brought "shame to Africa".

'Dead country'

The two protest days - under the slogan "Togo, dead country" were called by the head of the Action Committee for Renewal, Yawovi Agboyibo.



Why have a set of fundamental rules that governs the rule of democracy if it can be changed arbitrarily for selfish interests?



Osita Nwegbu, London, UK



Togo: Have your say


He said he expected support for the protest despite the ban on rallies.

Police in Lome broke up a demonstration as Mr Faure was being sworn in on Monday.

An Ecowas fact-finding delegation led by its executive secretary, Mohamed Ibn Chambas held a meeting with the new president on Monday morning, before his inauguration.

Mr Chambas described the discussions as "very fruitful", but would not give further details, our reporter says.

Sanctions

MPs passed a constitutional amendment the day after Gnassingbe Eyadema's death which allowed his son to serve out his father's term as president - until June 2008.

Mr Faure had already been installed as president by the military.

The African Union (AU) has threatened to impose sanctions on Togo, describing the succession as a military coup.

The AU has said the absence of a democratic transition in Togo is a threat to peace and most Western diplomats in Lome boycotted the inauguration on Monday.

Eyadema, Africa's longest-serving ruler, died at the age of 69 while being evacuated for medical treatment abroad - reportedly from a heart attack.

After seizing power 38 years ago, he dissolved all political parties and governed unchallenged for more than two decades.

He legalised political parties in 1991, as a result of popular pressure, and won three elections.

But accusations of political repression and electoral fraud continued.
Source: www.bbc.com
http://news.bbc.co.uk/2/hi/africa/4245861.stm
Support Caprivi Freedom
Fill out the form below to become a member of this site and receive our regular newsletter.