News and Information
---
Shia hold lead in Iraqi election
February 7, 2005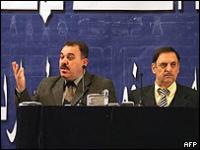 Iraqi election officials have had more than 100 complaints

Further partial results from Iraq's landmark election show Shia parties strengthening their lead.

The Shia United Iraqi Alliance list so far has more than twice the votes of the second-placed Kurdish alliance.

The Shia alliance has even taken a surprise lead in the province of Salaheddin, which includes the majority Sunni cities of Samarra and Tikrit.

Meanwhile, officials have confirmed irregularities in Mosul, saying more than 15,000 people were denied a vote.

Commission official Izzedine al-Mahmoudi said some people in the northern city and surrounding province were unable to cast ballots because voting materials ran out and election staff failed to turn up.

Some polling stations were also raided by gunmen, he said.

The electoral commission says it has received more than 100 complaints of irregularities, and has formed an independent team of three lawyers to investigate.

Sunni boycott

The election commission announced partial results from 13 of the country's 18 provinces on Monday.

They showed that the United Iraqi Alliance had about 2.3 million votes, with a coalition of Iraq's two main Kurdish parties winning around 1.1 million.

ELECTION SCHEDULE

Results due in several days

Early March: PM appointed
Late March: Government formed
15 August: Draft constitution (six-month extension possible)
15 October: Possible referendum on constitution
By 15 December: Elections for government



In depth: The next stages


The secular bloc led by interim Prime Minister Iyad Allawi had about 620,000.

The commission said the results might not reflect the final picture.

Most of the results come from the Kurdish-ruled northern provinces or the southern, mainly Shia areas.

Many Sunni areas still have not reported results, but partial figures from Salaheddin suggested many Sunnis boycotted the poll, as urged by their leaders.

The United Iraqi Alliance is leading in Salaheddin with 27,645 votes.

The Kurdish Alliance had 18,791 votes, with the party headed by Iraq's Sunni President, Ghazi Yawer, third on 15,832.

Despite the expected victory by the Shia alliance, US Vice-President Dick Cheney has brushed aside concerns that Iraq would become an Iranian-styled theocracy.

"They will do it in accordance with their culture and their history and their beliefs, and whatever role they decide they want to have for religion in their society. And that's as it should be," he said on Sunday.
Source: www.bbc.com
http://news.bbc.co.uk/2/hi/middle_east/4244029.stm
Support Caprivi Freedom
Fill out the form below to become a member of this site and receive our regular newsletter.