News and Information
---
US names Mid-East security envoy
February 7, 2005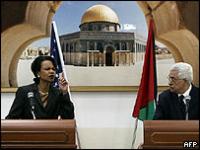 Condoleezza Rice referred to Mahmoud Abbas as "president"

The US has appointed a special envoy to assist Palestinian security reforms, amid renewed hopes of progress in Middle East peace efforts.

Secretary of State Condoleezza Rice said Lt Gen William Ward would visit the region in the coming weeks.

Ms Rice was speaking at a news conference after talks with Palestinian leader Mahmoud Abbas in the West Bank.

Mr Abbas welcomed US intervention and called on Israel to take its own measures to work towards peace.

He said he hoped his meeting with Israeli Prime Minister Ariel Sharon on Tuesday would help advance the process.

The Israeli-Palestinian meeting in Sharm al-Sheikh - without any US involvement - will be the highest-level talks between the two sides since the Palestinian intifada (uprising) broke out in 2000.

Symbol of support

Speaking in the West Bank town of Ramallah, Ms Rice said the US "will be very active" in new efforts to find common ground between the two sides.

She met Mr Sharon on Sunday.

NEW US SECURITY ENVOY


Named as Lt Gen William Ward
To report directly to Condoleezza Rice
To supervise reform of Palestinian security forces
To monitor compliance with "roadmap" obligations



Profile: Lt Gen Ward


The secretary of state announced that both leaders had accepted invitations to visit President George W Bush at the White House in the spring.

Ms Rice said Gen Ward was being appointed to "encourage resumption of bilateral security co-ordination".

She said that as well as some $350m promised to the Palestinian Authority last week by Mr Bush, $40m (£21m) in previously authorised assistance would be switched to an immediate "quick action programme" to create jobs and rebuild infrastructure.

The BBC's Dan Isaacs says that while it is a modest gesture by the US, it is nevertheless important as a symbol of support.

Israel appeared to welcome the appointment.

"This is someone who will be like a referee, if there is a need ... to mediate and prevent a crisis," AP news agency quoted prime ministerial spokesman Raanan Gissin as saying.

However, Mr Abbas said he had expected the US to provide a team of monitors.

"The United States promised us that there will be monitors to help prevent any friction and tension," he told AP.


Conciliatory tone

Mr Abbas said Palestinians were working to implement their commitments under the internationally-backed roadmap peace plan, and hoped the Israeli side would do the same.

Ms Rice praised him for achieving a ceasefire by militant groups.

RICE'S SEVEN-DAY TOUR

Fri: Met Tony Blair and Foreign Secretary Jack Straw in London; talks with Germany's Gerhard Schroeder in Berlin
Sat: Talks with leaders in Germany, Poland and Turkey; met Russian foreign minister in Ankara
Sun: Met Turkish government, then on to Israel where met Ariel Sharon
Mon: Talks with Mahmoud Abbas in West Bank
Tue: Meets Silvio Berlusconi in Rome, then delivers speech in Paris
Wed: Talks with French ministers, then on to meet Nato and EU officials in Brussels and Luxembourg
Thu: Returns to Washington


The BBC's Matthew Price, in Ramallah, says Mr Abbas will have been encouraged by Ms Rice's conciliatory tone.

He adds that the crucial test of the two sides' goodwill will be if they can get past the next major act of violence without reverting to their past animosity.

There have been new initiatives in the peace process since the death of Yasser Arafat, the Palestinian leader whom both Mr Sharon and the US had refused to negotiate with.

Throughout her press conference with Mr Abbas, Ms Rice referred to him as "President Abbas", marking a break with recent history, and the title bestowed on "Chairman Arafat".

On Monday, the Israeli army reopened the Karni crossing between Israel and the Gaza Strip, allowing vital cargo shipments to the Palestinians to resume.

The crossing was closed after six Israelis were killed in a militant attack there in mid-January.
Source: www.bbc.com
http://news.bbc.co.uk/2/hi/middle_east/4241983.stm
Support Caprivi Freedom
Fill out the form below to become a member of this site and receive our regular newsletter.