News and Information
---
Treason trial witness accused of acting on Police orders
February 8, 2005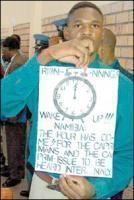 WERNER MENGES

at GROOTFONTEIN

THE third prosecution witness to testify in the Caprivi high treason trial faced accusations of having had his testimony manufactured by the Police as soon as defence lawyers started to test his evidence in cross-examination in the High Court at Grootfontein late last week.



State witness Liwate Oscar Simbulu is to continue testifying before Judge Elton Hoff when the trial continues tomorrow.

Like the previous State witness in the trial, Simbulu too is a possible accomplice of the 120 men on trial before Judge Hoff.

Before he started with his testimony on Wednesday last week, he, too, had to be warned formally in terms of the Criminal Procedure Act that he may incriminate himself on all the charges being faced by the accused, but that he may be discharged from being prosecuted if he is found to have testified frankly and honestly.

In his evidence in chief Simbulu had told the court that in October 1998 he had been in a training camp of a secessionist armed movement calling itself the Caprivi Liberation Army (CLA) in the Caprivi Region's Sachona area, about 20 kilometres south of Kongola.

Among the leadership figures in the camp were two of the 120 suspects on trial before Judge Hoff - alleged CLA commander John Samboma, and Thaddeus Ndala, Simbulu told the court.

He also identified another of the suspects, Moses Kayoka, as having been part of a CLA group that he said was led by Samboma into Zambia and then Angola in October 1998 in a failed attempt to get training at a camp of the then still warring Angolan rebel movement, Unita.

It was the mention of Kayoka that saw Simbulu face the first accusations of having been instructed by the Police on what he should testify in court.

Kayoka's lawyer, Christopher Dube, told Simbulu that his client would deny knowing Simbulu and would tell the court that Simbulu had been bribed by the Police to tell the court what he had told it.

Simbulu was unmoved and insisted he knew Kayoka.

He said they both came from the village of Liselo, close to Katima Mulilo.

Dube's response was that Kayoka would tell the court that he in fact came from Sachona.

When his turn to cross-examine Simbulu came, another member of the team of defence lawyers, Hennie Krueger, questioned Simbulu at length about the fact that he had made five sworn statements to the Police between March 2000 and September 2001, with facts being changed or corrected repeatedly in the process.

Simbulu's explanation was that after he realised that he had made mistakes in previous statements, he would give a new statement to correct it.

Yet he also said he did not approach the Police to have his statements corrected, but that they would approach him to do so.

When the Judge asked how the Police would have known that he had to rectify a mistake in a previous statement, Simbulu replied that he was approached by different Police officers, and he did not know why they had come to him to take down new statements.

He is set to continue to face cross-examination from defence counsel Jorge Neves tomorrow.
Source: www.namibian.com.na
http://www.namibian.com.na/
Support Caprivi Freedom
Fill out the form below to become a member of this site and receive our regular newsletter.