News and Information
---
Guantanamo man 'suing government'
February 5, 2005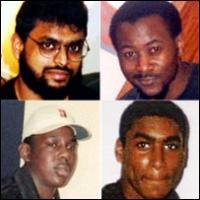 Guantanamo man 'suing government'
Clockwise from top left: Moazzam Begg, Martin Mubanga, Feroz Abbasi and Richard Belmar
Martin Mubanga, top right, and the three other British detainees
A British terror suspect held captive in Guantanamo Bay for 33 months plans to sue the government, it is reported.

Martin Mubanga claimed in the Observer that an MI6 officer played a key role in consigning him to the Cuban camp, following his initial arrest in Zambia.

Mr Mubanga, who holds dual British and Zambian nationality, says he was subjected to brutal interrogation at the camp and was daubed with urine.

The Foreign Office said it could not comment on matters of intelligence.

Stripped and confined

Mr Mubanga, 32, from London, was freed from the US camp last month along with fellow Britons Feroz Abbasi, Richard Belmar and Moazzam Begg.

In the first media interview given by any of the quartet, Mr Mubanga told the newspaper his worst moment came last March when he was told he would be released, only to be confined and told he would be there for many more years.

He added that, even as US authorities began to doubt his guilt, he was stripped of his clothes and mattress and forced to remain in an empty metal box, naked except for boxer shorts.


I've lost three years of my life, because I was a Muslim
Martin Mubanga
He also recalled an interrogation when he was ordered to urinate in the corner of an interview room while chained hand and foot.

A US interrogator then, he said, dipped a mop in the pool and daubed him with it.

'Break me'

Mr Mubanga, who insists he does not feel bitter, said: "I've lost three years of my life, because I was a Muslim.

"If I hadn't become a Muslim and carried on doing bad things, maybe I'd have spent that three years in a regular prison.

"The authorities wanted to break me but they strengthened me. They've made me what I am - even if I'm not quite sure yet who that person is."

Mr Mubanga's lawyer Louise Christian said: "'We are hoping to issue proceedings for the misfeasance of officials who colluded with the Americans in effectively kidnapping him and taking him to Guantanamo."

Menzies Campbell, the Liberal Democrats' foreign affairs spokesman, said it was "vital" to establish whether ministers approved Mr Mubanga's transfer to Guantanamo.

'Properly detained'

In response to the article, the US Department of Defense said: "The Department of Defense has no doubt that Mr Mubanga was properly detained as an enemy combatant under the laws of war.

"He was detained to prevent him from fighting against the US and our allies in the war on terror."

The department's statement added: "US policy condemns and prohibits torture. US personnel are required to follow this policy and applicable law.

"Torture is illegal, it's immoral and it doesn't work."

Razor wire and prisoners at Guantanamo Bay's Camp Delta
Hundreds of people have been held at Guantanamo Bay for three years

The statement also suggested that Mr Mubanga had a motive in making his claim. It said: "Al-Qaeda training manuals emphasise the tactic of making false abuse allegations.

"That this detainee is now making allegations of abuse at Guantanamo seems to fit the standard operating procedure in al-Qaeda training manuals."

A Foreign Office spokesman said he could not comment on the activities of British intelligence or security agencies.

Mr Mubanga says he was seized in Zambia in March 2002 after travelling to visit relatives.

He had previously spent time in Afghanistan and Pakistan, where he went to study Islam, and maintains that he does not support al-Qaeda and he condemned the September 11 attacks.

Among the evidence used against him was his passport, which he says was lost but was produced by an agent who said it had been found in a cave in Afghanistan.

Mr Mubanga and the three other freed British detainees were released without charge by UK police on their return from Cuba.
Source: www.bbc.com
http://news.bbc.co.uk/1/hi/uk/4240107.stm
Support Caprivi Freedom
Fill out the form below to become a member of this site and receive our regular newsletter.