News and Information
---
Rice presses Russia on democracy
February 5, 2005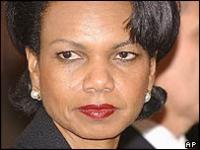 Rice presses Russia on democracy
US Secretary of State Condoleezza Rice in Poland
The US has been increasingly critical of Russia
US Secretary of State Condoleezza Rice says Russia must do more to show it is committed to democracy if it wants deeper relations with Western nations.

Speaking before a working dinner in Turkey with the Russian foreign minister, Ms Rice said it was no secret that Washington had concerns.

She said Russia must show it is intent on strengthening the rule of law and permitting a free press.

Ms Rice was in Turkey on Saturday night on the fourth leg of a whirlwind tour.

'Same vision'

In Poland earlier, where she met her Polish counterpart, Adam Rotfeld, Ms Rice said: "The United States does have, in fact, productive relations with Russia.

"It is a relationship that will deepen and broaden, particularly if democratic values can find a way to take hold in Russia."


RICE'S SEVEN-DAY TOUR
Fri: Meets UK's Tony Blair and Foreign Secretary Jack Straw in London; talks with Germany's Gerhard Schroeder in Berlin
Sat: Talks with leaders in Germany, Poland and Turkey; meets Russian foreign minister in Ankara
Sun: Meets Turkish government, then on to Israel
Mon: Sees Ariel Sharon in Jerusalem, then Mahmoud Abbas in West Bank
Tue: Meets Silvio Berlusconi in Rome, then delivers speech in Paris
Wed: Talks with French ministers, then on to meet Nato and EU officials in Brussels and Luxembourg
Thurs: Returns to Washington

"Everyone wants Russia to be a prosperous, democratic state that is fully integrated", and there are many signs that "Russia has the same vision of the future," Miss Rice added.

"And when we have differences, as we sometimes do, we have to work through those with respect for the differences, respect for both sides."

A state department official said Ms Rice, who as an academic specialised in Soviet affairs, had a two-and-a-half hour working dinner with the Russian Foreign Minister Sergei Lavrov at her hotel in the Turkish capital Ankara.

Although Ms Rice speaks fluent Russian, the two spoke only in English, the US official said.

The US administration has grown increasingly critical of the Russian authorities, says the BBC's Steven Rosenberg in Moscow.

Earlier, in Warsaw, Ms Rice discussed the situation in Iraq with Polish leaders, who are planning to cut their military contingent in the country by a third later this month.

Her tour is aimed at revitalising relations with European nations, following the strains caused by the Iraq invasion. President Bush is to visit Brussels later this month.
Source: www.bbc.com
http://news.bbc.co.uk/2/hi/europe/4239445.stm
Support Caprivi Freedom
Fill out the form below to become a member of this site and receive our regular newsletter.