News and Information
---
Jackson hits back in TV interview
February 4, 2005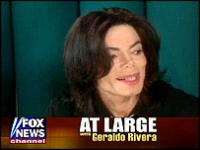 Michael Jackson hit out at the media in the interview (copyright: Fox News)

Pop star Michael Jackson has said in a television interview for the Fox News Channel that many of the news reports about him are "fiction".

Mr Jackson, who denies charges of child molestation, claimed he was a target because of his celebrity status.

"The bigger the star, the bigger the target," he said. "But the truth always prevails, I believe in that."

Jury selection in Mr Jackson's trial, which began on Monday, is due to continue next week.

Mr Jackson is facing four charges of lewd acts involving a minor, one count involving an attempted lewd act upon a child and four counts of administering alcohol.

The 46-year-old singer is constrained by a court order barring him from speaking publicly, without the judge's permission, about the case.

Neverland

The TV interview, with presenter Geraldo Rivera, was the first he has given since he was indicted by a grand jury in April 2004. It is due to be broadcast in full on Saturday.

Mr Jackson said that he designed his Neverland estate as a place where he could enjoy the childhood activities he missed out on.

"I created Neverland as a home for myself and my children," he said. "It gave me a chance to do what I couldn't do when I was little."

"We couldn't go to movie theatres, or go to Disneyland. We couldn't do those fun things. We were on tour, and we did enjoy it. But this allowed me to have a place behind the gates where the entire world I love is there."

He also hit out at rapper Eminem, who impersonated him in the video for his recent chart-topping single Just Lose It.

"I've been an artist most of my life and I've never attacked a fellow artist," Mr Jackson said. "Great artists don't have to do that."
Source: www.bbc.com
http://news.bbc.co.uk/2/hi/entertainment/4235313.stm
Support Caprivi Freedom
Fill out the form below to become a member of this site and receive our regular newsletter.