News and Information
---
Tymoshenko appointed Ukraine PM
February 4, 2005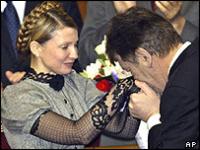 Yulia Tymoshenko has the personal backing of President Yushchenko

The Ukrainian parliament has approved President Viktor Yushchenko's controversial nomination of Yulia Tymoshenko as the new prime minister.

Her nomination was supported by 373 votes in the 450-seat parliament.

Ms Tymoshenko was a key supporter of the pro-Western Mr Yushchenko during the disputed presidential elections.

The Russian authorities accuse Ms Tymoshenko, a former gas industry oligarch, of bribery and are pursuing a criminal case against her.

Earlier on Friday, she presented her government's programme to MPs, promising to alter the state's role in society radically.

"We don't want, under any circumstances, the state and the government to retain the functions of managing or policing people, the functions of coercion and humiliation," she said.

"We want radically to change the role of the state and government in society."

She replaces Viktor Yanukovych, who resigned as prime minister after losing the presidential race.

Controversy

In parliament on Friday, Mr Yushchenko told deputies he trusted Ms Tymoshenko. He promised that hers would be an honest government.

The BBC's Sarah Rainsford, in Moscow, says Ms Tymoshenko's new cabinet includes a number of noted reformers.

Goddess of revolution

As well as economic reform, they plan to tackle corruption and push for ever closer integration with the European Union.

But the new prime minister herself remains a controversial choice.

Our correspondent says Ms Tymoshenko is fond of provocative words and dramatic gestures.

In speeches she has referred to former President Leonid Kuchma as a "red-haired cockroach".

And she remains deeply unpopular among many in the Russian-speaking east of Ukraine.

In Russia itself, the prosecutor-general has said his office will continue to pursue a criminal case against her and a court has already issued an order for her arrest if she visits Russia.

She is accused of attempting to bribe officials in Russia's defence ministry when she ran a Ukrainian gas trading company back in 1996.

Ms Tymoshenko says the claims that she wanted the officials to inflate the price of supply contracts with the Russian military by $80m (£42.5m) are politically-motivated.
Source: www.bbc.com
http://news.bbc.co.uk/2/hi/europe/4236561.stm
Support Caprivi Freedom
Fill out the form below to become a member of this site and receive our regular newsletter.