News and Information
---
Italian reporter 'seized in Iraq'
February 4, 2005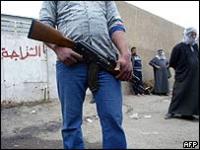 Several foreign journalists have been kidnapped in Iraq

An Italian journalist has been kidnapped in Baghdad while carrying out interviews in the street, Iraqi police have said.

An Italian diplomat confirmed Giuliana Sgrena, 56, a correspondent for Il Manifesto newspaper, had been seized.

She was speaking to people near Baghdad University when she was snatched by armed men, her interpreter said.

A French woman reporter, Florence Aubenas, and her Iraqi assistant went missing in Iraq in January.

Two other French journalists, Christian Chesnot and Georges Malbrunot, were released in December after being held hostage by Iraqi militants for four months.

I heard shots and people running but I did not hear her speak

Barbara Schiavulli
Italian radio journalist

Ms Sgrena was seized at about 1400 local time (1100 GMT) in the al-Jadriya district in central Baghdad, an Iraqi interior ministry official said.

"Men in a minibus blocked their car. They took the journalist and an Iraqi driver who were found in the car and whisked them away to an unknown location," the official told the AFP news agency.

Gabrielle Polo, a director of the daily Il Manifesto paper, told AFP Ms Sgrena had been abducted within minutes of calling the office to say she was fine.

Pistol shots

Italian radio journalist Barbara Schiavulli told her station GRT in Rome that Ms Sgrena had called her mobile phone while the abduction was going on, the Associated Press agency reported.


Journalist and aid worker Enzo Baldoni was killed by his captors


"I heard shots and people running but I did not hear her speak," Ms Schiavulli said.

"I only heard pistol shots ... I heard shots and began to shout 'Giuliana, Giuliana', but she did not reply."

Ms Sgrena, who had been in Baghdad since 23 January, was in the area to talk to Falluja refugees living there temporarily, AP said.

Baghdad police said she had been accompanied by two Iraqi journalists and an Iraqi driver. Whether they were abducted or escaped remains unclear.

The BBC's Jon Leyne says Western journalists have often been a target of kidnappers in Iraq.

Video footage

He says Italian citizens are at particular risk because their country is a member of the US-led coalition forces.

An Italian journalist and Red Cross aid worker, Enzo Baldoni, was kidnapped on 20 August last year between Baghdad and Najaf.

He was killed by a group calling itself the Islamic Army in Iraq and footage of his death released on a video.

In September 2004, two Italian women working for humanitarian organisations were abducted and held for three weeks before being released.

Four Italians were taken hostage in Iraq in April.

One of them, civilian security guard Fabrizio Quattrocchi, was later shot dead by his captors, while the remaining three were released unharmed.
Source: www.bbc.com
http://news.bbc.co.uk/2/hi/middle_east/4236239.stm
Support Caprivi Freedom
Fill out the form below to become a member of this site and receive our regular newsletter.