News and Information
---
Treason witness points out 2 alleged secession ringleaders
February 4, 2005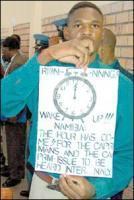 WERNER MENGES

at GROOTFONTEIN

A FIXED, unblinking stare into the face of his accuser was the only reaction from treason suspect John Samboma yesterday when the third prosecution witness in the Caprivi treason trial pointed him out as having commanded trainees in an armed separatist force in the Caprivi Region in late 1998.

Samboma is alleged to have commanded the secessionist Caprivi Liberation Army, which is accused of carrying out the August 2 1999 attacks at Katima Mulilo.

Despite threats that they would no longer attend their trial, Samboma and 14 of his co-accused were in court yesterday.

Their presence enabled Samboma and another alleged leader in the Caprivian separatist movement, Thaddeus Ndala, to hear for themselves how the prosecution's third witness placed them at the centre of Caprivi Liberation Army activities that he claimed to have witnessed more than six years ago.

The witness, 27-year-old Liwate Oscar Simbulu, related that some time in October 1998 he found himself part of a group of people making their way on foot through the Caprivi Region's Singalamwe area towards the Zambian border.

Samboma led the way, Simbulu claimed.

He added that Samboma addressed the group, going under the name 'Caprivi Liberation Army', and informed them that they would cross the border into Angola, where they would go to a Unita camp to receive training.

They were told that after they had been trained, they would return to fight the Namibian Government "so that we could de-link the Caprivi Region from Namibia".

However, they received a frosty welcome in Angola and soon returned to Namibia, where Samboma led them to a place in the Sachona area where they would be based, Simbulu continued.

At that "camp" he woke up one morning to see arms, ammunition and explosives stored in a cooking area, he testified.

Ndala again visited the group there, together with one Francis Mushandikwe, who identified himself as a Namibia Defence Force member, according to Simbulu.

Ndala gave them physical fitness training in preparation for "the attack", while Mushandikwe taught them how to assemble, take apart and clean firearms, he claimed.

He left the Sachona camp after only a week and a half, and that was the end of his involvement in the secessionist force, Simbulu claimed.

"I decided on my own that this place was dangerous," he said.

Simbulu is expected to be cross-examined by the defence lawyers today.
Source: www.namibian.com.na
http://www.namibian.com.na/
Support Caprivi Freedom
Fill out the form below to become a member of this site and receive our regular newsletter.