News and Information
---
Israel approves prisoner releases
February 3, 2005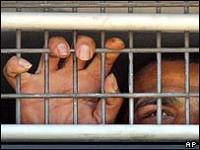 Israel approves prisoner releases
Palestinian prisoner being brought into the Hadariam prison, north of Tel Aviv
Israel is reportedly set to free 500 Palestinians in the next few days
Israel has approved a plan to free hundreds of jailed Palestinians and withdraw forces from West Bank cities.

The decision comes ahead of next week's Middle East summit and amid hopes for an end to four years of violence.

Reports say up to 900 detainees could be freed, boosting Palestinian leader Mahmoud Abbas's efforts to maintain a ceasefire by militants.

But tensions remain after Israeli soldiers arrested a Palestinian youth carrying an explosive belt in his bag.

Troops at the Hawara checkpoint near Nablus in the West Bank stopped the 15-year-old boy, who also had a home-made gun and 20 bullets.

And in an incident in the Gaza Strip, Israeli soldiers shot a Palestinian who threw grenades at an army vehicle on a road leading to the Kissufim checkpoint, close to the Gush Katif block of Israeli settlements.

In recent weeks, Israelis and Palestinians have managed to reduce violence, and the Palestinian militant groups have largely held to the informal ceasefire.

Palestinian and Israeli officials say next week's summit could end with a mutual cessation of violence.

'Historic opportunity'

The BBC's James Reynolds in Jerusalem says Thursday's measures are a sign of the co-operation and trust which has gradually been building up between officials on both sides.

Israeli security sources say senior cabinet ministers agreed to a troop withdrawal from Jericho in the next few days, followed by four other cities - Ramallah, Qalqilya, Tulkarm and Bethlehem - over two-week intervals.

Israeli ministers also approved the release of 500 Palestinian prisoners in the following days, and another 400 later.


We have announced a ceasefire, and the Israelis should announce one also
Mahmoud Abbas
Palestinian leader

Mid-East press review

"We hope that the first group will... include prisoners who served long sentences," Mr Abbas said.

Earlier on Thursday the newly elected leader said he expected the Israeli government to declare a formal ceasefire.

"We have announced a ceasefire, and the Israelis should announce one also," he said.

'Historic opportunity'

Israeli Prime Minister Ariel Sharon and Mr Abbas are to attend the summit at Sharm el-Sheikh in Egypt next Tuesday.

The meeting, hosted by President Hosni Mubarak, will also be attended by King Abdullah of Jordan.

It will be the highest-level talks since Mr Sharon, who shunned the late leader Yasser Arafat, came to power.

Speaking on Thursday to Israeli Army radio, Israeli Vice-Premier Shimon Peres said: "I hope there will be an official declaration of an armistice, on the cessation of all acts of violence."

Mahmoud Abbas and Ariel Sharon
Palestinian and Israeli leaders have spoken of a historic opportunity

Both Mr Abbas and Mr Sharon have spoken of an "historic opportunity" to make progress in the peace process, following the death of Mr Arafat.

The two leaders met on several occasions in the summer of 2003 during Mr Abbas' brief spell as prime minister, including at the launch of the international peace plan known as the roadmap at Sharm el-Sheikh.

Palestinians want all of the West Bank and the Gaza Strip - captured by Israel during the 1967 Six Day war - for their future state with occupied east Jerusalem for its capital.

Israel is planning unilaterally to pull out all 8,000 Israeli settlers and the troops who protect them from 21 fortified enclaves in Gaza by the end of 2005. Its military will keep control of Gaza's borders, coastline and airspace.
Source: www.bbc.om
http://news.bbc.co.uk/2/hi/middle_east/4233003.stm
Support Caprivi Freedom
Fill out the form below to become a member of this site and receive our regular newsletter.