News and Information
---
Mbeki told to understand W Africa
February 3, 2005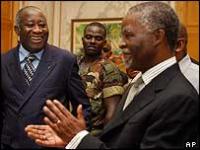 Mbeki told to understand W Africa
Ivory Coast President Laurent Gbagbo (l) with South Africa's Thabo Mbeki (r)
Mbeki (r) must understand Laurent Gbagbo's (r) soul
French President Jacques Chirac has told South African leader Thabo Mbeki to "understand the soul of West Africa" to broker a peace deal in Ivory Coast.

Mr Chirac insisted that he fully supported Mr Mbeki's efforts.

Former French colony Ivory Coast has been divided in two by a rebellion since September 2002.

Mr Mbeki has been charged with leading efforts to reunify the country. France has some 4,000 peacekeepers there, who have been criticised by both sides.

Buffer zone

"West Africa is West Africa. It has its own characteristics. You have to know it well," Mr Chirac told Radio France Internationale.

Jacques Chirac and Senegal President Abdoulaye Wade
France has long seen itself as Africa's voice in the world
"And I would really like President Mbeki - whose process, I repeat, we do support - to immerse himself in West Africa so as to understand the mentality and the soul of West Africa, because in times of crisis, you have to really know people's mentalities and what is in people's souls."

Correspondents say that France has long tried to portray itself as Africa's voice in the world.

The French president was speaking from Senegal, where he offered to withdraw his troops from Ivory Coast if African leaders asked him to do so.

They are policing a buffer zone between the rebel-held north and the loyalist south, together with some 6,000 UN peacekeepers.

Last year, nine French troops were killed when the loyalist planes bombed rebel positions.

The French retaliated by destroying the small Ivorian air-force, leading to anti-French riots in the main city, Abidjan.
Source: www.bbc.om
http://news.bbc.co.uk/2/hi/africa/4232551.stm
Support Caprivi Freedom
Fill out the form below to become a member of this site and receive our regular newsletter.