News and Information
---
Mandela calls for poverty action
February 3, 2005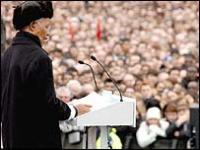 Nelson Mandela addressing crowds in Trafalgar Square
Mandela compared the scourge of poverty with apartheid.
Nelson Mandela has urged world leaders not to "look the other way" from poverty during a mass rally in London.

He said the issue was as important as the fight against slavery - or his former task of fighting apartheid and leading South Africa to freedom.

Addressing a rally in Trafalgar Square, he said 2005 offered a "unique opportunity" to cancel debt and bring trade justice to the poorest countries.

Mr Mandela is to meet finance ministers from the G7 industrialised countries.

The talks on Friday are the first event in the UK's presidency of the G7.

'No false promises'

Chancellor Gordon Brown met Mr Mandela on Wednesday ahead of the rally, which is aimed at encouraging the public to commit to action on debt, aid and trade.

Mr Brown is proposing an aid package which he has likened to the Marshall Plan - the American proposal aimed to reconstruct western Europe after World War II.

Nobel Peace Prize winner Mr Mandela backed the chancellor's proposals when the pair met in South Africa last month.


THE G7 NATIONS
UK
US
France
Germany
Japan
Italy
Canada

He urged the rally on Thursday to "Make Poverty History in 2005" and help set free the millions of people in the world's poorest countries who remained imprisoned by poverty.

"Massive poverty and obscene inequality are such terrible scourges of our times ... that they have to rank alongside slavery and apartheid as social evils," he said.

He called on world leaders to honour the promise they made in the Millennium Declaration to halve extreme poverty.

'Action not words'

"I have to say to all those leaders: do not look the other way - do not hesitate," he said.

"Recognise that the world is hungry for action not words. Act with courage and vision."


HAVE YOUR SAY
Giving more aid or cancelling debts will not solve the problem, although such efforts should be commended
Ssekyanzi Robert, Kampala, Uganda

Send us your comments
Adrian Lovett of Oxfam, a member of the Make Poverty History coalition, said: "Nelson Mandela's presence in London sends a clear signal from one of the world's greatest heroes that 2005 is the year when we strike a huge blow against world poverty.

"His presence is not only a rallying cry to the public to get involved, but serves notice to rich countries that the world will not put up with false promises, delays and hollow sound bites."

Trafalgar Square was the location, before Mr Mandela's release from prison in 1990, of anti-apartheid demonstrations in front of the South African embassy.

Public pressure

The Making Poverty History campaign wants developing countries' debts - which cost them £21bn a year - to be cancelled.

Fair access to trade markets and aid money are also on the list of demands.

It says the public can help put pressure on government by taking party in rallies, writing to their MPs and ministers and other campaign activities.

The UK has made Africa, along with climate change, a key priority of its presidency of the G7.

Mr Mandela will deliver what officials are calling a "fireside chat" to the finance ministers on Friday before their formal dinner.

The weekend's talks will include discussions about debt relief.

Opening up world oil markets and debate about the world economy, including the role of China, are also on the agenda.
Source: www.bbc.om
http://news.bbc.co.uk/2/hi/uk_news/politics/4231141.stm
Support Caprivi Freedom
Fill out the form below to become a member of this site and receive our regular newsletter.