News and Information
---
Mugabe opponents to run in polls
February 3, 2005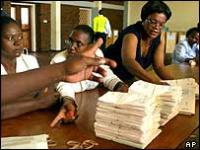 The MDC fears the outcome has already been decided
Zimbabwe's main opposition party has announced it will field candidates in parliamentary elections next month "with a heavy heart".

The polls would not be free and fair, said the Movement for Democratic Change. "We participate under protest."

Last year it said it would boycott elections because the odds were stacked in favour of President Robert Mugabe's ruling Zanu-PF party.

Mr Mugabe has promised to abide by a set of regional democratic guidelines.

He has set up a national electoral commission but the MDC says the changes do not go far enough.

The MDC had wanted the 31 March elections to be put back so that more reforms could be passed.

Its main complaints are:

* "Rule of law concerns have not been addressed.
* The media remains muzzled;
* "Free assembly is proscribed by the Public Order Security Act;
* "The recently appointed Electoral Commission is yet to prove its independence;
* "The shambolic voter's roll continues to be the principal vehicle for electoral fraud;
* "The Constituency boundaries have been subjectively gerrymandered whilst militias and militia bases continue to multiply;
* "International observers continue to be unwelcome."

MDC spokesman Paul Themba Nyathi said the party was contesting because most MDC supporters wanted to take part and "to keep the flames of hope for change alive".

African support

BBC Southern Africa correspondent Barnaby Phillips says the MDC feared it would have lost its relevance if it had boycotted the polls.

President Robert Mugabe
President Mugabe denies rigging previous elections
They also hope that by taking part, they will force Zanu-PF into blatant ballot-rigging, which would discredit the poll abroad.

But our correspondent says Zanu-PF will be confident that it has the support of neighbouring African countries.

The United States and the European Union imposed sanctions on Mr Mugabe and his close associates, accusing him of using violence and electoral fraud to rig the 2002 presidential election.

Mr Mugabe denies the accusations and says western countries are seeking his removal because of his policy to seize white-owned land for redistribution to blacks.
Source: www.bbc.om
http://news.bbc.co.uk/2/hi/africa/4232679.stm
Support Caprivi Freedom
Fill out the form below to become a member of this site and receive our regular newsletter.