News and Information
---
Why I'm here for Michael
February 3, 2005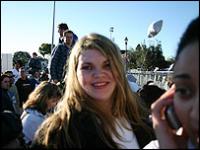 Emily Smith was among hundreds of Michael Jackson fans who showed their support outside the California court where the singer faces charges of child abuse. Here the 23-year-old from Sevenoaks in Kent explains why she made the trip.

This time I'm here for a week, so I took leave from the cinema, supermarket and temp jobs where I've been doing overtime to pay for this.

But when the trial starts I hope to be back for the start and the end. In an ideal world, I'd love to get a work permit and stay for longer because going for a just a few days at a time is not sufficient.

I'm here because Michael has done so much for his fans over the years so it's my turn to repay the favour. The only way I can really explain it in simple terms is when England are playing football in an away match and fans go because they want to be there to support them and cheer them on.

So I'm here for Michael to give him strength and show him he's not on his own, to help him fight this injustice. On bad days, when he sees all his friends out there longing for it to be over and being so supportive, he can draw a lot of our energy.


Jackson impersonator at court
Some people dressed in Jackson costumes but a lot of us dressed in white to show purity
I flew over by myself and got in touch with other fans I'd been in contact with in Los Angeles. On Sunday I drove 200 miles straight to the court and stayed there for 23 hours until Monday afternoon.

In my group we took it in turns to go back to the car for an hour because it was so freezing. I had about six layers and was still shivering to death. I thought I was hallucinating at one point.

But I've met people from Australia, Japan, other parts of Europe and the US, Brazil, and others from England. They're aged between three and nearly pensioner age.

Singing

By Monday there was about 500 people and there's a mixture of feelings. Personally I was partly nervous, partly excited and partly angry I was there for that reason because it shouldn't have come to this.

And I feel so sorry for Michael at the moment. There were about two people protesting against Michael but fans told them 'Unless Michael's convicted, they're in the wrong place.'

Some people dressed in Jackson costumes, but a lot of us dressed in white to show purity, like Michael who wore a white suit. But through the night I stopped caring about the colour and put on my layers until the sun came up.

We sang some of his lyrics which are relevant to the case and other chants. When Michael's lawyers appear, we chanted to hype them up. Members of his family have been here, thanking fans, collecting messages, and filming us to show to Michael later.

Jackson fans
Emily and friends showed support at Neverland
On Tuesday I got up at 2.45am to get to court for 4am. When it was adjourned until Monday we went to Neverland and had a vigil outside for him.

The atmosphere was different there, not as loud as at court. Fans have too much respect for him to disturb the peace and cause trouble outside his personal home.

Some people linked up in circles and said prayers, others just wanted to get a glimpse of him. On Tuesday, Michael shook hands with fans and signed autographs. He's such a humble person for someone who's a huge megastar.

My friends think I'm mad but they know it's one of those things I do. I've probably been to about 10 concerts or Jackson events in the last 10 years.

I was here for his 45th birthday, when I won a raffle and went to Neverland, but I had to sign an agreement not to talk about it. But it's a magical place. People say he needs to grow up but there's nothing odd about it. You can escape from the world there.

Jackson fans
For some the emotion was too much
I also came over for his court appearance at the arraignment. The whole Michael Jackson culture you either get or you don't. It feels like the most natural thing in the world to me but if you're outside it then it seems like an extreme thing to do.

He brings a sense of love and belonging, and he brings people together from all over the world. He's given his whole life to the industry, to friends and supporters.

He gives more to charity than any other celebrities and puts out an influential message about healing the world and I truly believe he stands for that.

If I had any element of doubt in my mind that he was innocent I wouldn't be here now.

I'm heartbroken to be going home because I feel I should be here next week, but I have to earn some more money to come back for the trial.
Source: www.bbc.om
http://news.bbc.co.uk/2/hi/uk_news/magazine/4232827.stm
Support Caprivi Freedom
Fill out the form below to become a member of this site and receive our regular newsletter.