News and Information
---
Zimbabwe expels SA union leaders
February 2, 2005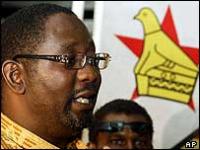 Congress of South African Trade Unions (Cosatu) secretary general Zwelinzima Vavi
Cosatu's Zwelinzima Vavi was invited by Zimbabwean trade unionists
A group of South African unionists has been deported from Zimbabwe after arriving on a "fact-finding" mission ahead of next month's elections.

The 20-member team was refused entry by immigration officials at Harare's international airport.

The government of President Robert Mugabe suspects South African unionists of backing the main opposition party, which was formed by Zimbabwe's unions.

The trip could threaten relations between the two neighbours.

South Africa is seen as a key player in attempts to resolve Zimbabwe's problems and some have called for it to stop supplying subsidised electricity to put pressure on Mr Mugabe.

'North Korea'

"We are not shocked but we are going back home with a better sense of what's happening in Zimbabwe. What is it that the government has to hide?" Congress of South African Trade Unions (Cosatu) general secretary Zwelinzima Vavi told AFP news agency by phone shortly after being refused entry.

They had initially planned to meet human rights groups but then said they would only meet their fellow unionists.

Morgan Tsvangirai
Zimbabwe's opposition leader Morgan Tsvangirai is a former unionist

Mr Mugabe has promised that the 31 March parliamentary elections would be held according to new regional guidelines to ensure that elections are free and fair.

"If it is really levelling the playing field and conforming to Sadc [Southern African Development Community] norms, how can they feel threatened by people carrying pens and notebooks," Mr Vavi said.

"They have been charged with (Section) 18A of the Immigration Act which relates to prohibited immigrants. They are being put on the next plane back to South Africa," said Wellington Chibebe, head of the Zimbabwe Congress of Trade Unions, which organised the trip.

Last year, another Cosatu delegation was deported from Zimbabwe.

Embarrassing

Labour, Public Service and Social Welfare Minister Paul Mangwana said the delegation needed to apply for a permit through the South African labour minister.

"Until they comply with that requirement, which we have already communicated to them, their coming is not welcome," he said.

He did not repeat a threat made on Tuesday to arrest the group.

BBC Southern Africa correspondent Barnaby Phillips says the expulsion is embarrassing for Zimbabwe coming just before parliamentary elections which Mr Mugabe hopes will be endorsed by African leaders.

He says it also places South Africa's governing African National Congress (ANC) in a very tricky situation.

The ANC is allied to Cosatu, but has been much less critical of human rights abuses in Zimbabwe.

Now that Cosatu has been so publicly snubbed, the ANC will be under pressure to adopt a tougher line on Zimbabwe.
Source: www.bbc.com
http://news.bbc.co.uk/2/hi/africa/4225985.stm
Support Caprivi Freedom
Fill out the form below to become a member of this site and receive our regular newsletter.