News and Information
---
Zimbabwe announces election date
February 1, 2005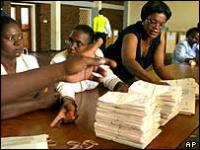 Zimbabwe announces election date
Votes being counted
President Mugabe denies rigging previous elections
Zimbabwe's President Robert Mugabe has announced a general election is to be held on 31 March.

The main opposition Movement for Democratic Change is due to announce later this week whether to take part.

Last year, it said it would boycott elections because all the odds were stacked against them and in favour of Mr Mugabe's ruling Zanu-PF party.

Mr Mugabe has promised to abide by a set of regional guidelines to ensure that elections are free and fair.

He has set up an independent electoral commission but the MDC says these changes do not go far enough.

They had wanted the election to be put back so that more reforms could be passed.

Damned

MDC leader Morgan Tsvangirai recently said they would be "damned if we do take part and damned if we don't".

President Robert Mugabe
President Mugabe could remain in charge until elections in 2008

In his weekly newsletter published on Tuesday, Mr Tsvangirai expressed the hope that the polls could prove significant.

"Whether we opt to stay at home or not, the ensuing consequences shall push the political temperature beyond boiling point and hasten the demise of tyranny in our country," he said.

But the BBC's Southern Africa correspondent Barnaby Phillips says that the opposition MDC must make an awkward decision. If it doesn't take part, it risks sinking into political oblivion. But if it does participate, and the indications are that it will, it knows that the odds are hopelessly stacked against it.

If Zanu-PF gains a two-thirds majority in parliament, it would be able to change the constitution, which could be important if Mr Mugabe, 80, decides to step down or if his health worsens.

President Mugabe has the power to nominate 30 MPs within the 150-member parliament.

Treason

The United States and the European Union have accused Mr Mugabe of using violence and electoral fraud to rig his 2002 re-election.

He denies the charges and accuses his western "enemies" of trying to oust him because of his policy of seizing white-owned land.

Also on Tuesday, the Zimbabwean government withdrew an appeal against a court ruling acquitting Mr Tsvangirai of plotting to kill President Mugabe.

If convicted, he could have been sentenced to death.

"As far as the treason case is concerned that's the end of it," Mr Tsvangirai's lawyer told AFP news agency.
Source: www.bbc.com
http://news.bbc.co.uk/2/hi/africa/4226895.stm
Support Caprivi Freedom
Fill out the form below to become a member of this site and receive our regular newsletter.