News and Information
---
SBC agrees to buy AT&T for $16bn
January 31, 2005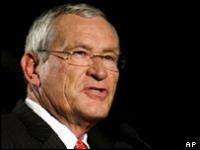 SBC agrees to buy AT&T for $16bn
SBC chief executive and chairman Edward Whitacre
SBC chief executive Edward Whitacre will head the new company
US phone company SBC Communications has agreed to buy its former parent AT&T for about $16bn (£8.5bn).

The deal first emerged in rumours last week, and will be financed with $15bn of shares as well as a $1bn special dividend paid to AT&T shareholders.

It effectively marks the end of AT&T, which was founded in 1875 by telephone pioneer Alexander Graham Bell and is one of the US's best-known companies.

SBC and AT&T said that cost savings were a main driver for the merger.

Dovetailing

AT&T is a long-distance telecoms firm, while SBC is mainly focused on the local market in the western US. Both also have data network businesses.

"The communications industry is undergoing a profound transformation," said Edward Whitacre, SBC's chief executive and the man who will head the new company.

Following the merger, the companies will have "the intellectual and financial resources to spur innovation and propel America's communications industry forward", he continued.

The companies said they expect annual cost savings of at least $2bn from 2008.

AT&T investors will receive 0.78 SBC shares for each of their AT&T shares. They will also get a special dividend payment of $1.30 per share.

Strong client list

The deal is subject to approval by AT&T's shareholders and regulators. The companies said they expected to complete the agreement during the first half of 2006.

Faced with fierce competition, revenues at AT&T have fallen over recent years and the slide is forecast to continue.

As if to reflect the former parent's struggles, SBC's offer is barely 2% more than AT&T's market value of $15.7bn.

It does, however, have a strong business client list that contains "virtually every member of the Fortune 1000" list of the biggest businesses, AT&T said.

Seven firms, called the "Baby Bells", were split off from AT&T in 1984.

Now, following mergers and consolidation, only three remain: BellSouth, SBC - which absorbed PacTel and Ameritech - and Verizon, originally named Bell Atlantic and the purchaser of Nynex and non-Baby Bell GTE.

The final Baby Bell, US West, was bought by fibre-optic company Qwest in the 1990s.

If the AT&T takeover goes ahead - and the regulatory hurdles could be fierce, given complex US rules on competition in the telecoms business - SBC could leapfrog its rivals into becoming more of an international operation.
Source: www.bbc.com
http://news.bbc.co.uk/2/hi/business/4221631.stm
Support Caprivi Freedom
Fill out the form below to become a member of this site and receive our regular newsletter.