News and Information
---
Iraqi PM calls for national unity
January 31, 2005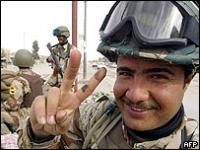 Iraqi PM calls for national unity
An Iraqi soldier flashes the victory sign as he secures a street in the city of Najaf
The election was hailed as a victory - but results may be slow to emerge
Iraq's interim Prime Minister Iyad Allawi has appealed for Iraqi citizens to unite following Sunday's historic national election.

Mr Allawi vowed to begin "a new national dialogue", saying Iraqis should set aside their differences.

In his first public comments since the election, Mr Allawi said the poll was a "victory over terrorism".

The UN's senior election official said turnout in Sunni areas - hotbed of the insurgency - was higher than expected.

However, he stressed that voting among Sunnis, whose participation in the poll is seen as key to the success of the new government, was nonetheless low.

UK Foreign Secretary Jack Straw on Monday called for an early meeting of the G8 - the world's leading industrialised nations plus Russia - and Iraq's neighbours, to build international support for Iraq's new government.

'Work together'

Echoing Mr Allawi, Mr Straw said the elections "represent a real blow to [the insurgents'] disgusting campaign of violence and intimidation".


I'm glad to see that our expectations were not borne out regarding the low turnout in certain areas
Adnan Pachachi
Sunni politician

Election: In quotes
World press respects poll
The overall election turnout has been estimated at about 60%, with some eight million Iraqis voting. It remains unclear how many Iraqis were registered to vote.

Almost 94% of more than a million Iraqis living abroad who were registered to vote cast their ballot, the International Organisation for Migration (IOM), which was appointed by Iraq's electoral commission, said.

Regardless of whether they participated in the election, Mr Allawi said, Iraqis now had to find common ground.

"We are entering a new era of our history and all Iraqis - whether they voted or not - should stand side by side to build their future," he said.

The UN's senior election official in Iraq, Carlos Valenzuela, told BBC News he was pleased that more people than expected "defied the threat of violence to go and vote".

He said a precise turnout figure would not be known for several weeks, but it appeared higher numbers of Sunnis than expected turned out to vote.

Long count ahead

Leading Sunni politician Adnan Pachachi, who had called for the elections to be postponed, said he was glad his expectations about low turnout were not borne out.

He said he wanted Sunni parties that had not taken part in the elections to be involved in the writing of the Iraqi constitution.


ELECTION SCHEDULE
Results due in around 10 days
Early March: PM appointed
Late March: Government formed
15 August: Draft constitution (six month extension possible)
15 October: Possible referendum on constitution
By 15 December: Elections for government

In depth: The next stages

"This is the most important task before the national assembly," said the former Iraqi foreign minister. "If that can be done, I think we would have paved the way for a much more inclusive election before the end of the year."

The BBC's Paul Wood in Baghdad says defeating the insurgency may depend on being able to form a broad-based government which Sunnis feel represents their interests, as well as the Shias who voted in such large numbers.

He says votes were counted through the night, sometimes by candlelight because of electricity cuts.

It may be 10 days yet before the final tally is ready, he adds.
Source: www.bbc.com
http://news.bbc.co.uk/2/hi/middle_east/4223845.stm
Support Caprivi Freedom
Fill out the form below to become a member of this site and receive our regular newsletter.