News and Information
---
Zimbabwe hunger claims 'US plot'
January 31, 2005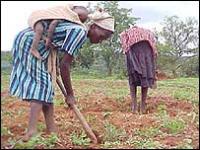 Zimbabwe farmers
The government says land reform has been a success
The Zimbabwe government has angrily denied reports that half the population will need food aid this year.

Agriculture Minister Joseph Made said the report was part of western plans to destabilise Zimbabwe ahead of elections due in March, state media reported.

A US-funded food monitoring body said last week that almost six million Zimbabweans would need food aid before the next harvest.

The opposition accuses the government of using food as a political tool.

The Movement for Democratic Change (MDC) says its supporters are denied state hand-outs.


God has been smiling on us
Joseph Made
Agriculture Minister
They say the government refuses international food aid in order to retain control of its distribution.

These claims are rejected by the government.

Last year, Mr Made said that, after three years of shortages, Zimbabwe had grown more than enough food to feed the population and even had a surplus.

Last week, the Famine Early Warning Systems Network reported that, of the 12.5 million Zimbabweans, some 5.8 million would need food aid before the next harvests in April.

"You see God has been smiling on us and we are lucky that in the northern parts there were some good rains in the last few days and crops are doing well," Mr Made was reported as saying in The Herald newspaper.

'Outpost of tyranny'

Government critics say the seizure of white-owned farms for redistribution to blacks has led to food shortages.

These claims are also rejected by the government.

"The land reform is a resounding success under the circumstances," Mr Made said.

Earlier this month, US Secretary of State Condoleezza Rice described Zimbabwe as one the world's last "outposts of tyranny."

The US and the European Union accuse President Robert Mugabe of rigging his 2002 re-election. Mr Mugabe denies the claims.
Source: www.bbc.com
http://news.bbc.co.uk/2/hi/africa/4222387.stm
Support Caprivi Freedom
Fill out the form below to become a member of this site and receive our regular newsletter.