News and Information
---
Jackson in court for abuse trial
January 31, 2005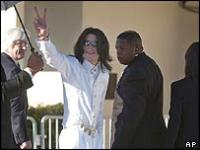 Michael Jackson arrives in court
Jackson was accompanied by his defence team
Pop icon Michael Jackson has arrived in court in California at the start of proceedings in his trial on charges of child molestation.

Dressed all in white and shielded by an umbrella, the singer waved at crowds of screaming fans outside the courthouse, where jury selection is due to begin.

Some 750 prospective jurors will be screened in this first stage of the trial, which could last six months.

Mr Jackson, 46, denies 10 counts of child abuse and one of conspiracy.

If convicted, he could face a maximum 21 years in prison.

Before entering the courthouse in Santa Maria, Mr Jackson gave a brief victory sign to fans who had travelled from around the world to offer their support.

But unlike his appearance here a year ago, there was no theatricality and no dancing on cars, says the BBC's James Coomarasamy in Santa Maria.

Jury panel

The case is expected to be one of the most high-profile celebrity trials the US has ever witnessed.

Hours before it was due to begin, Michael Jackson's parents went on television to defend their son.


I know my son, and this is ridiculous
Katherine Jackson

Timeline: How the case developed

His mother, Katherine, told CBS television: "I know my son, and this is ridiculous."

Joe Jackson, Michael's father, said his son's accuser was motivated by greed.

During proceedings, would-be jurors will come face-to-face with the singer in groups of 150, in a selection process which could last up to a month.

They will be given seven-page questionnaires about the case and told to return next week.

Judge Rodney Melville will then question them individually as prosecution and defence teams work to agree on a final panel of 12, with eight reserves.

Video plea

Dozens of fans gathered outside the courthouse, chanting "Justice for Michael" and "Michael is innocent".

More than 1,000 journalists applied for accreditation to cover the trial.

The court sessions will not be televised, but media organisations have been gearing up for blanket coverage in what has been coined the "celebrity trial of the century".

Michael Jackson supporters outside the courtroom
The singer's fans have been gathering since the early morning

On Sunday, Mr Jackson made an impassioned video plea on his website for a fair hearing on Sunday.

The pop icon said he would be "acquitted and vindicated when the truth is told", and condemned recent media leaks in his case as "disgusting and false".

The indictment stems from accusations made by a now 15-year-old boy.

Charges were brought in December 2003 after police raided Mr Jackson's ranch.

Prosecutors accuse Mr Jackson of plying the boy with alcohol to seduce him.

He is also accused of conspiring to kidnap the boy and his family.

Mr Jackson's team has dismissed the allegations as a "big lie" concocted by the accuser's family, which they claim is driven by greed.
Source: www.bbc.com
http://news.bbc.co.uk/2/hi/entertainment/4221677.stm
Support Caprivi Freedom
Fill out the form below to become a member of this site and receive our regular newsletter.