News and Information
---
Talks plan key Middle East summit
January 30, 2005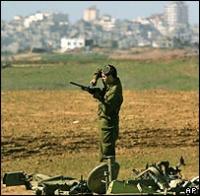 Israeli soldier on Gaza border
Israeli operations are being scaled down in occupied territories
Israeli Defence Minister Shaul Mofaz and Palestinian security official Mohammed Dahlan have met to prepare for a key summit due next month.

Israeli Prime Minister Ariel Sharon and Palestinian leader Mahmoud Abbas will hold their first discussions since Mr Abbas' election last month.

Israel said there was a "good positive atmosphere" at Saturday's talks. The Palestinians say they are close to an agreement with militant factions to halt attacks on Israeli targets.

In Gaza, at least 22 people were injured in clashes between supporters of the dominant Palestinian faction, Fatah, and the radical Hamas movement.

A series of shooting incidents broke out at al-Mughazi refugee camp over the factions' various successes in recent elections.

Israeli troops have shot and killed a Palestinian man near Khan Younis in southern Gaza, hospital medics say.

Witnesses said 35-year-old Ibrahim Shawas, who reportedly had learning difficulties, was shot as he approached Israel's border fence.

It would be the fourth Palestinian death in a week, although violence in the occupied territories has abated since Mahmoud Abbas' recent election.

Israeli military sources said the army was unaware of the incident.

Palestinian security forces have been deploying throughout the Gaza Strip in the past week and Mr Abbas has persuaded militant groups to observe a de facto truce and end rocket and mortar attacks against Israeli targets.

Reports say Mr Shawas was shot by troops from the Israeli side of the border.

Efforts praised

Palestinian officials say Mr Abbas' first summit with Mr Sharon will take place within the next two weeks.

It will be the highest-level direct contact since they signed the roadmap peace plan in June 2003, when Mr Abbas was Palestinian prime minister.

Mr Sharon has praised Mr Abbas' efforts to end fighting between the two sides, and the Israeli army has ordered a scaling down of its military activities in the Palestinian territories.

Mr Abbas is currently in Cairo where he has held talks with President Hosni Mubarak.

Their meeting follows reports that Egypt has agreed to deploy police along its border with Gaza, and that Egyptian officials will help to mediate a ceasefire between Israel and Palestinian groups.
Source: www.bbc.com
http://news.bbc.co.uk/2/hi/middle_east/4218313.stm
Support Caprivi Freedom
Fill out the form below to become a member of this site and receive our regular newsletter.