News and Information
---
President launches Iraq election
January 30, 2005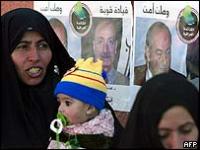 Women walk past election posters in Najaf
Voter activity is expected to be high in Shia cities like Najaf
Iraq's interim president Ghazi Yawer was one of the first people to vote in the country's first multi-party elections for half a century.

Mr Yawer said he hoped all Iraqis would follow his lead and go to the polls.

Over 100 parties and coalitions are competing for 275 seats in a transitional national assembly which will draw up a new constitution.

An unprecedented security operation is under way, but it is feared many Iraqis will be put off by continuing violence.


ELECTION SCHEDULE
Friday: Expatriate voting begins; overnight curfews in Iraq
Saturday: Borders and airport closed for three days
Sunday: Election day, cars banned from roads, polls open 0700 (0400 GMT) and close 1700 (1400 GMT)
28,000 voting booths in some 5,300 polling centres
Next week: Vote counting for 4 or 5 days
Early Feb: Final results announced
Early March: PM appointed
Late March: Government formed

In pictures: Poll preparations
Election security challenge
Militant leader Abu Musab al-Zarqawi issued a final warning to Iraqis not to vote, and declared "all-out war" on the election.

Record numbers of US soldiers are reported to be on duty to enforce security measures, which include a dusk-to-dawn curfew in most cities and a ban on travel between provinces.

Correspondents described Baghdad as a ghost-town.

Iraq's borders and the main international airport in Baghdad are also closed.

Voting officially started at 0700 local time (0400 GMT), though some polling stations opened even earlier.


HAVE YOUR SAY
Voting means voting against violence, it means voting against terrorism and it means voting for free and democratic Iraq
Ahmad Mousawi
Iraqi in London, UK

Send us your comments

Shias and Kurds are expected to turn out to vote in large numbers.

But some Sunni political parties have urged Iraqis to boycott the election. In a poll conducted by Zogby International, 76% of Sunni Arabs said they "definitely would not vote". Only 9% said they would vote.

The minority Sunni community dominated Iraqi politics during the regime of Saddam Hussein.

Rocket attack

Mr Yawer said on the eve of the poll that voters would probably stay away from polling stations over safety concerns, not as a protest.

But for polling day he had a more upbeat message, congratulating the Iraqi people and calling on them to vote.

Violence reached the heavily fortified centre of Baghdad on Saturday, where two Americans died in a rocket attack on the US embassy compound.

At least four people were wounded in the Saturday night attack, inside the so-called Green Zone.

It is not clear if the casualties were embassy employees.

The US military said it had arrested seven people in connection with the attack.

Sporadic attacks have been reported at some polling stations.

In other developments:

* US President George W Bush says US forces will stay in Iraq after the election to help the new government train security forces and "establish security"

* UK troops in the southern city of Basra say they have seized explosives and arrested several Iraqis suspected of plotting a bombing campaign

* The Associated Press news agency says the bodies of five Iraqi men, accused of working with the Americans, were found lying in a street in Ramadi.

You can watch John Simpson's Panorama programme on the state of Iraq on BBC One on Sunday 30 January at 2215 GMT and on BBC World television on Saturday 5 February at 0810, 1210 and 2210 GMT.
Source: www.bbc.com
http://news.bbc.co.uk/2/hi/middle_east/4219569.stm
Support Caprivi Freedom
Fill out the form below to become a member of this site and receive our regular newsletter.