News and Information
---
Tension builds to Jackson trial
January 28, 2005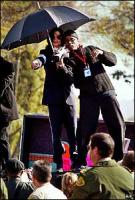 By Peter Bowes
BBC News, Santa Maria

Michael Jackson on top of his limousine after a court hearing in January 2004
Mr Jackson famously jumped on top of his car after an earlier hearing
Jury selection in pop star Michael Jackson's child abuse trial is due to get under way in Santa Maria, California, on Monday. The singer is expected to be there - along with thousands of fans and media personnel.

It is going to be a long weekend for the hordes of media staff setting up camp in the car park at the Santa Maria courthouse.

Satellite trucks belonging to network TV stations have started rolling into town for a trial that is certain to dominate the airwaves for much of the year.

The area around the small courthouse is being transformed into a media village reminiscent of "Camp OJ" - the broadcasters' encampment that sprung up around the trial of former American football star OJ Simpson in Los Angeles.

"It's a big deal - we have 14 camera positions for the NBC network and its affiliates," said technician Ed Nugent as he wired up another piece of equipment.

Miles of cables are being laid between the media pen, where some of the cameras will be based, and the broadcasters' makeshift studios dotted around the court complex.

Michael Jackson fan Michel Martin
About 5,000 fans are expected at the courthouse on Monday
Some local businesses are cashing in by renting office space to media outlets. The larger stations are building elevated stages from which their star-name anchors will get a birds-eye view of the action outside the court.

In court, officials are working against the clock to prepare and issue photo ID credentials to every member of the media.

Over the weekend, more reporters and fans will descend on the town. After months of relatively quiet pre-trial hearings, a frenzied atmosphere is expected to return to the proceedings - similar to the day the singer first appeared in court to proclaim his innocence on child molestation charges.

"It's going to be a circus, there'll be big crowds," Mr Nugent said. "I have no idea why people are interested - but they are. For me, it's just a job."


His safety is in jeopardy and that's something that we are concerned about
Dan Macagni
Santa Maria police chief

Peter Bowes' reporter's log from Santa Maria
After his initial court appearance in January 2004, Mr Jackson was criticised for his antics outside the building. He famously leapt onto the roof of his vehicle to salute the crowd.

"We've learned some valuable lessons and we believe that we are prepared to handle any contingency that comes up," explained Dan Macagni, chief of police in Santa Maria.

"We're in direct contact with his security team... and we've been negotiating with him all along to make sure he stays in his vehicle."

Satellite trucks outside Santa Maria courthouse
News organisations are putting their crews in place
"Our job is getting him into the courtroom safely and out on the road safely and gone. If he abides by our requests and the rules... everything will go just fine.

"If he doesn't, then he's going to cause some issues. His safety is in jeopardy and that's something that we are concerned about."

Security is much tighter than it has been for previous hearings. Two tall chain-link fences have been erected to keep fans at bay.

"We've bought a significant number of barricades to keep the crowds of out of the streets so we don't have a repeat of people rushing out to try to get to Mr Jackson's vehicle," said Chief Macagni.

The police operation will cost up to $7,000 (£3,800) a day while the court is in session.


From my sources inside the camp, I know that he's having a very difficult time with all this
J Randy Taraborrelli
Michael Jackson biographer
So far, only a few fans are milling around the area - but by Monday police expect a crowd of up to 5,000.

Many supporters say they will be a permanent presence outside the courtroom. Nichole A Jackson, who changed her surname in 2002 to be the same as her idol, said she believed he was innocent.

"There is no way Michael would ever hurt a child. That's just ridiculous stuff," she said.

Another fan, Michel Martin, added: "I don't know if he's guilty or not guilty - I guess we'll have to wait for the court system to decide that.

"But you have to understand that these are men judging Michael and not God."

Another observer will be Michael Jackson's biographer J Randy Taraborrelli, author of Michael Jackson: The Magic and the Madness, who has known the singer since he was a child.


Sofia Hollum, campaigner for child abuse victims
This is a child molestation trial - it's not the Michael Jackson Show
Sofia Hollum
Child abuse campaigner
"This has taken a terrible toll on him. From my sources inside the camp, I know that he's having a very difficult time with all this. He is only human," said Mr Taraborrelli.

"A jury will decide whether he has been victimised by people who may or may not be out to get him. But in the bigger picture of his life, I'm sorry to see this have to be part of it."

Campaigners for victims of child abuse also plan to be present. Sofia Hollum represents a group of parents who are concerned about the effect of the media coverage on young victims of abuse.

"I saw the big fan presence on the first day... and I realised that children seeing that on television might get the wrong idea that if they come forward nobody's going to be believe them. So we need to be out here talking about child abuse," she said.

"The thing we have to remember, because of the circus atmosphere, is that this is a child molestation trial - it's not the Michael Jackson Show."
Source: www.bbc.com
http://news.bbc.co.uk/2/hi/entertainment/4213683.stm
Support Caprivi Freedom
Fill out the form below to become a member of this site and receive our regular newsletter.