News and Information
---
ANC moves to back Zimbabwe trip
January 28, 2005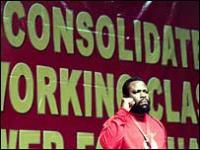 Cosatu president Willie Madisha
Cosatu feels trade union solidarity with Zimbabwe's opposition
South Africa's ruling African National Congress (ANC) has moved to back a controversial trade union mission to Zimbabwe ahead of March elections.

The Congress of South African Trade Unions (Cosatu) wants its visit to highlight Zimbabwe's political crisis.

Last year, a Cosatu delegation was expelled from Zimbabwe and the ANC initially opposed a second trip.

The BBC Southern Africa correspondent says the Zimbabwe government will not welcome the ANC's change of tack.

South Africa is seen as a key player in attempts to resolve Zimbabwe's problems and some have called for it to stop supplying subsidised electricity to put pressure on Zimbabwe's President Robert Mugabe.

Disappointed

The BBC's Barnaby Phillips says several ANC ministers have been publicly supportive of Mr Mugabe, whereas Cosatu has criticised human rights abuses in Zimbabwe.

President Robert Mugabe
Mugabe insists that the elections will be fair
Zimbabwe's main opposition party, the Movement for Democratic Change (MDC) was formed by trade unions and correspondents say Cosatu feels union solidarity with the MDC.

Zimbabweans ministers have said that the Cosatu team would not be welcome.

But before getting ANC backing for next week's trip Cosatu dropped meetings with civil society leaders, disappointing Zimbabwean human rights activists.

In Zimbabwe, two MDC MPs have been arrested in recent days after holding political meetings.

The MDC says this shows the government is not serious about holding free and fair parliamentary elections which are expected in March.

Zimbabwe's ruling Zanu-PF party denies rigging two previous elections.

Mr Mugabe has appointed an independent electoral commission to oversee the poll - a key part of new regional electoral guidelines, which Zimbabwe says it will respect.
Source: www.bbc.com
http://news.bbc.co.uk/2/hi/africa/4215321.stm
Support Caprivi Freedom
Fill out the form below to become a member of this site and receive our regular newsletter.